Budding entrepreneur? Send your questions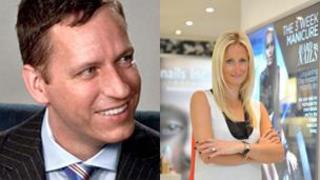 We're facing the biggest youth unemployment crisis in a generation, according to the International Labour Organisation.
All this week the BBC is focusing on the lost generation of young people and what's being done to generate jobs.
With jobs limited, have you thought about running your own business and have you got what it takes?
Here's an opportunity to put your questions to two famous entrepreneurs on both sides of the Atlantic.
Peter Thiel co-founded PayPal which has more than 100 million active accounts. He also made the first outside investment in Facebook, a social networking hub that now has more than 800 million active members.
Thea Green is a British entrepreneur who founded Nails inc. in 1999, a chain of nail bars which provide fast manicures and serve 10,000 customers a week.
This form is now closed for questions