Emir of Kuwait dissolves parliament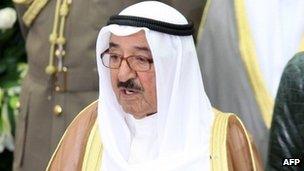 Kuwait's Emir, Sheikh Sabah al-Ahmed al-Sabah, has dissolved parliament, citing "deteriorating conditions" amid a crisis over corruption allegations.
Elections must be held within 60 days.
Last week, the cabinet resigned shortly before former Prime Minister Sheikh Nasser al-Mohammed al-Sabah was to be questioned about the alleged payment of bribes to pro-government MPs.
Protesters stormed parliament late last month after the government tried to prevent him facing questions.
Sheikh Sabah described the event as a "black day" and promised to restore order. At least 45 people were arrested.
Following Sheikh Nasser's resignation, the emir appointed outgoing Defence Minister Sheikh Jaber al-Mubarak al-Sabah as the Gulf state's new prime minister, and asked him to form a government.
However, on Tuesday a decree from Sheikh Sabah dissolving the National Assembly was read out on state television.
"Due to the deteriorating conditions that led to difficulties in achieving progress and threatened the country's higher interests, it was necessary to go back to the people to choose their representatives," it said.
The decree said there would be elections but gave no date. According to the constitution, elections must now be held within 60 days.
This is the fourth time since 2006 that the emir has dissolved parliament.
Kuwait's parliament has the most powers of any elected body in the Gulf, and opposition MPs openly criticise the ruling Sabah family.