Bomb blast close to British embassy in Bahrain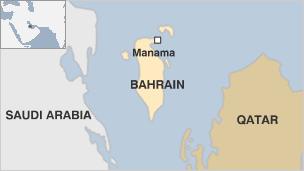 A bomb has exploded near the British embassy in Bahrain, according to the Bahrain Interior Ministry.
A UK Foreign Office spokeswoman said it was aware of a small blast, in the capital Manama, which had caused no casualties nor damage to the embassy.
She said the Foreign Office was liaising with the Bahrain Interior Ministry and was not going to speculate on the cause of the explosion.
Police and fire services attended the scene after the blast on Sunday.
A Bahrain Interior Ministry spokesman, Lieutenant-Colonel Saleh Salem, said security has been tightened in the Ras Raman area of Manama, where the bomb went off, and police have opened an investigation.
He said the explosion was caused by a highly explosive device placed under the front left wheel of a minibus that was parked in a parking area on Al Hokoma road, about 50m from the British Embassy.
The blast led to the wheel being blown off, the front of the vehicle being damaged and glass being shattered. A hole with a diameter of around 30cm was made under the vehicle, he said.
He added that five other cars parked in the area had also received damages.
The Bahrain Interior Ministry said it immediately secured and reinforced the headquarters of embassies in the Kingdom of Bahrain after the blast.
Citizens and residents have been asked to immediately report any suspicious car parked near vital establishments.
Related Internet Links
The BBC is not responsible for the content of external sites.