Kenya: deadly grenade attacks near Somalia border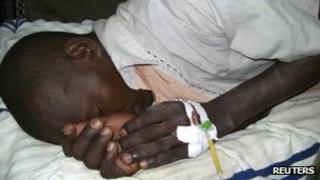 At least three people have been killed in explosions in eastern Kenya, officials have said.
More than 27 people were injured in grenade attacks in the town of Garissa, near the Somali border.
Earlier, a Kenyan soldier was killed by a bomb in the border town of Mandera.
Kenya ordered its soldiers into Somalia in October to crush the Islamsit al-Shabab group who it said had attacked its security forces and tourists inside Kenya. Al-Shabab denies the allegation.
The al-Qaeda linked group, which controls much of southern and central Somalia, says it views the incursion as an act of war and has warned it will take revenge by attacking Kenya.
The group is locked in a battle with the weak UN-back interim government for control of the parts of the country which are currently outside its power, particularly Mogadishu.
Scenes of panic
One of the explosions killed two people in a hotel in Garissa, while another blast in the street killed a third, police sources said. Twelve people were seriously injured.
"Two people died at the new Holiday Inn known locally as Kwa Chege. Another died in a blast at Ngamia road," a police officer said.
Asked what caused the blasts, he said: "These were grenades", adding that most of the wounded suffered shrapnel injuries.
Local resident Hussein Abdi told AFP news agency there were scenes of panic in the centre of the town where the blasts occurred.
Garissa is the capital of North Eastern province, 100km (60 miles) from the Somali border.
In Mandera, a Kenyan soldier was killed and at least four others wounded after their truck hit a landmine near the Somali border.
The explosions are the latest in a series of attacks in the region since Kenya sent troops into Somalia last month.
Some analysts say the Kenyan government wants to establish a buffer zone along its border with Somalia following a string of attacks blamed on al-Shabab.
The incidents included the abductions of four foreign women, one of whom subsequently died.
After two decades of civil conflict, Somalia is awash with guns and analysts say any number of groups could have carried out the kidnappings - including pirate gangs.
Meanwhile, heads of state of the East African regional bloc - the Inter-Governmental Authority on Development (Igad) - are expected to meet in Addis Ababa on Friday to discuss the political and security situation in Somalia.