Yemen: At least five protesters 'shot dead' in Sanaa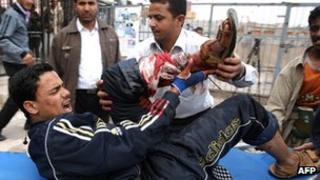 At least five protesters have been shot dead by loyalists of Yemeni President Ali Abdullah Saleh in the capital, Sanaa, reports say.
They were protesting against a power transfer deal that promises Mr Saleh immunity from prosecution.
The president has condemned the violence and ordered an investigation into the killings.
On Wednesday, he signed the deal in Saudi Arabia under which he will step down after some 30 years in power.
He has agreed to hand power to his deputy.
Mr Saleh "condemned the violence that left casualties today in the capital Sanaa" and "ordered the ministry of interior to carry out an immediate and full investigation and to bring those responsible for this crime to justice, whatever party they belong to," the state Saba news agency reported.
Many others were wounded in the clashes, reports say.
An AFP correspondent said the protesters were shot at by armed civilians, whom they described as Mr Saleh's "thugs", as they marched towards the city centre.
"Government loyalists opened fire on a demonstration from rooftops, from inside shops and from a passing car," Ibrahim Ali, a 22-year-old man at a local hospital who had been wounded in the knee, told Reuters news agency.
At least four bodies taken from the scene of the shooting were visible at a nearby hospital, correspondents say.
Activists had called for a mass rally to protest against the promise of immunity for Mr Saleh.
Bloody crackdown
A crackdown on anti-government protests, which began in February, has left hundreds of people dead and thousands wounded in Yemen.
President Saleh - who has governed since 1978 - came close to signing the deal several times in the past, only to pull out at the last minute.
Under the plan, the 69-year-old leader will hand over power to deputy Abdrabuh Mansur Hadi in return for immunity from prosecution.
Mr Hadi is then expected to form a national unity government and also call for early presidential elections within 90 days.
The deal envisages that Mr Saleh will remain as honorary president for three months after signing the agreement.