Viktor Bout guilty of Colombian rebel arms deal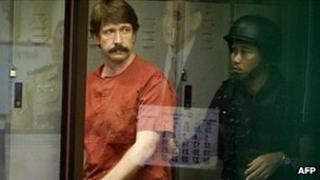 A former Soviet military officer has been found guilty in a New York court of attempting to sell heavy weapons to a Colombian rebel group.
Prosecutors said Viktor Bout, 44, who has been dubbed the merchant of death, stood to make millions from supplying weapons to the group.
The defence argued Bout had only wanted to sell two cargo planes.
He was arrested in Bangkok in 2008 after a sting operation in which US informants posed as Colombian rebels.
He remained in custody in Thailand for two years, before being extradited to the US to face trial, where prosecutors alleged that he had tried to sell weapons to Colombia's leftist rebel group, the Revolutionary Armed Forces of Colombia (Farc).
After the verdict, Bout hugged one of his lawyers before he was led from court.
Conspiracy charges
Bout was convictedof conspiracy to kill US citizens and officials, deliver anti-aircraft missiles and provide aid to a terrorist organisation.
"Viktor Bout was ready to sell a weapons arsenal that would be the envy of some small countries,"US Attorney Preet Bharara said.
During Bout's trial, which began on 12 October, prosecutors said the weapons had been intended to arm the group against what Bout had called a common enemy: US forces supporting the Colombian government.
In the opening statements of his trial the prosecution alleged that Bout had agreed to deliver 100 surface-to-air missiles, 20,000 high-powered rifles and 10m rounds of ammunition to rebels in Colombia in 2008.
They told the jury that Bout had been told the weapons would be used to target US pilots working with Colombian officials.
Prosecutors say Bout replied: "We have the same enemy."
But the defence argued Bout was just trying to sell two old cargo aircraft for $5m (£3.1m).
"Viktor was baiting them along with the promise of arms, hoping just to sell his planes," lawyer Albert Dayan told the court.
He will be sentenced on 8 February 2012 and could face a maximum term of life in prison.
The defence has already said that Bout will appeal against the verdict.
Gun-running
The conviction relates only to the alleged arms sale in Thailand, but US authorities say Bout has sold weapons to dictators and guerrilla forces in Africa, South America and the Middle East.
It is said that Bout began channelling weapons to war-torn parts of Africa during the 1990s.
The UN has named him an associate of former Liberian President Charles Taylor - who is now awaiting judgement for war crimes.
Media reports in the Middle East claim he was a gun-runner for the Taliban and al-Qaeda - allegations he has flatly denied.
Law enforcement agencies pursued him throughout the last decade.
The Hollywood movie Lord of War, starring Nicholas Cage, was loosely based on Bout's life.