'My cousin wanted me for a passport'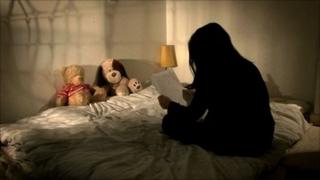 Seventeen-year-old Jessie faced being forced into marriage to her 40-year-old cousin in Bangladesh. She begged the British Consulate in Dhaka for help and officials stepped in. She is just one of an estimated tens of thousands of British women at risk of being forced into marriage.
Here is her story.
Alan Morrison, the British Consul in Bangladesh, says his team meet a girl like Jessie every week.
Born in Britain but living in rural Bangladesh and promised in marriage to a much older man.
Jessie managed to call the consulate when her father was at evening prayers.
"She told them she was desperate not to marry but did not have any money and was not allowed to look after her own passport," said Mr Morrison.
Jessie had been promised to her cousin at the age of 11. She was due to turn 18 next month so the consul decided to act immediately.
"Her birthday is all important because normally we find a girl will be married on her birthday, so we need to get to her before that date," he explained.
When the embassy receives a call about a British citizen being forced into marriage they normally only have a few hours before the girl is moved away or married off.
"In these circumstances, when you've got a British girl, often she's seen as a commodity," explained Mr Morrison. "Because she's got a passport, he can get a visa, and work in the UK. We're seeing a generational strategy to emigrate to the UK."
They managed to locate Jessie in Sylhet, a day's drive from the capital Dhaka. It is where the majority of British Bangladeshis emigrated from to the UK and is where most of the forced marriages take place in the country.
Alan and a female consular worker, who acts as a chaperone and translator, drove straight there. They also took an armed guard, as families often resort to violence to prevent a rescue.
Dangerous
The element of surprise is also crucial for a rescue: arriving at the family home is the most dangerous time as they do not know how many male members of the family will be there to try and stop her leaving.
But the team find luck is with them - Jessie's father and uncles were not there.
Watched silently by the extended family of aunts and cousins they walked around the central courtyard and looked into the different faded, painted buildings until they located Jessie and her mother.
They found that Jessie had spent such a long time in rural Bangladesh that her English was almost non-existent.
Through the translator, Mr Morrison made sure she understood the consequences of leaving.
Without support from her husband Jessie's mum handed over her passport.
"If you want to take her I have no objections - but I must talk to her father," said her mother.
Within 20 minutes of arriving they were able to leave the family compound with Jessie and her passport.
Sat in the British Consulate car, Jessie held the hand of the female consular officer and smiled.
"She is relieved. It's a dream for her to go back to the UK," the translator relayed to Alan.
"I'm very, very happy," Jessie managed to say in English.
On the way back, Alan learnt more of her story: "She's just told us that she's hardly ever left the house, she's been to Dhaka twice and the UK twice - once for one month and then for 10 months.
"She hasn't been educated. For the past few months, as she argued with her father, no-one would even talk to her."
Jessie was taken to a woman's shelter, the only one in Bangladesh for forced marriage victims, to spend the first night of her life alone.
This, said the embassy officials, is the hardest time as Jessie has to wait four days for her flight to England so has time to think about what she has done.
'Be Strong'
Women's rights campaigner, Masouda Khatun Shefali, who runs the shelter, was on hand to encourage Jessie to keep strong.
"Remember they'll use love to trap you," she warned Jessie.
"Now your job is to get back to Britain, anything that gets in your way push it aside."
"You've got to be strong, it will be hard but you will make new friends," she reassured.
But Jessie revealed her own determination.
"I might be hurting but I won't give up, I'm strong and I won't change my mind. Even if I feel I'm dying I won't give up.
Jessie is the youngest of seven, but is the only child who has lived in Bangladesh. Her brothers and sisters all live in the UK, but she thinks they would not welcome her as they will feel she has brought shame on their entire family by not marrying her cousin.
A year later, Jessie has her own small flat in London and is going to college, studying for GCSEs.
"I have to learn lots of things because I have no support from anyone, no support from my family, no one," she said.
As expected her relatives in the UK have kept away from her. It has been a huge change and challenge for her but she stands by her decision.
"My cousin didn't want me, he just wanted a passport. Lots of Bangladeshi girls have to do that, we have to marry our cousins bring them to this country and then get divorced because we don't know each other well."
But she admits to a sadness at never seeing her parents again.
"I know my mum gave me a hard time, but I miss her a lot and I love her a lot because she's my mum.
"I don't know what she thinks about me but I feel sad. I want to see her again and hug her again but I can't, but one day maybe."
Jessie's story is told in My Forced, Unwanted Wedding on BBC Three, Monday 19 September at 21:00 BST.