UN warning over 12 million stateless people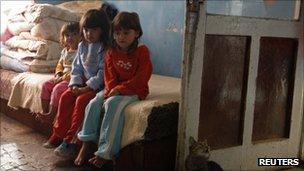 Some 12 million people around the world do not have citizenship of any country, and are being denied basic human rights as a result, the UN has warned.
The organisation is calling for more countries to sign up to two conventions on statelessness.
It says the issue is becoming worse as stateless children are born to stateless parents.
The problem is most widespread in South East Asia, Central Asia, Eastern Europe, the Middle East and Africa.
"These people are in desperate need of help because they live in a nightmarish legal limbo," said Antonio Guterres of the UN High Commissioner for Refugees (UNHCR).
"Apart from the misery caused to the people themselves, the effect of marginalising whole groups of people across generations creates great stress in the societies they live in and is sometimes a source of conflict."
Due to their lack of nationality, stateless people can face a whole range of problems including issues owning property, opening a bank account, getting married legally or registering the birth of a child.
Some even face long periods of detention, because they cannot prove who they are or where they are from.
Only 66 states are signed up to the 1954 Convention entitling stateless people to minimum standards of treatment while a mere 38 are party to the 1961 Convention which provides a legal framework to help states reduce statelessness.
"After 50 years, these conventions have attracted only a small number of states,'' Mr Guterres added.
"It's shameful that millions of people are living without nationality - a fundamental human right."
However, in recent months Croatia, Panama, the Philippines and Turkmenistan have all signed up to one or both of the international conventions, the UNHCR said.
People can become stateless for a variety of reasons, including the break-up of nations such as the Soviet Union and the Yugoslavia, or the creation of new countries after colonial powers leave, such as in parts of Africa and Asia.
Stateless people include the Rohingya in Burma, some hill tribes in Thailand, some Roma groups in Europe and the Bidun people of the Gulf States.
Related Internet Links
The BBC is not responsible for the content of external sites.