Phone hacking: Police officer arrested over leaks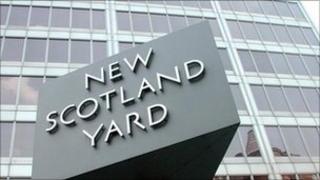 A police officer has been arrested in relation to leaks during the Scotland Yard phone-hacking investigation.
The 51-year-old detective constable was arrested at work on Thursday and bailed. He has been suspended.
The BBC understands a second man arrested on Friday as part of the Met's Operation Weeting was Dan Evans, 35, a former News of the World reporter.
The Met's Deputy Assistant Commissioner Sue Akers said the police officer's arrest was "hugely disappointing".
She said: "I made it very clear when I took on this investigation the need for operational and information security. It is hugely disappointing that this may not have been adhered to.
"The MPS (Metropolitan Police Service) takes the unauthorised disclosure of information extremely seriously and has acted swiftly in making these arrests."
'Off-the-record sources'
It is understood that the officer's arrest relates to the alleged leaking of information to an unnamed newspaper. It is not possible to confirm the newspaper's identity however the Guardian has issued a statement.
It says: "On the broader point raised by the arrest, journalists would no doubt be concerned if conversations between off-the-record sources and reporters came routinely to be regarded as criminal activity.
"In common with all news organisations we have no comment to make on the sources of our journalism."
The officer has been released on bail until 29 September.
The second arrested man has been released on bail until October.
Scotland Yard said all officers working on the phone-hacking investigation had signed a confidentiality agreement. A review of security has been initiated.
Operation Weeting is looking into illegal hacking of the mobile phone voicemails of public figures by reporters from the now-defunct News of the World (NoW) newspaper.
A spokeswoman for NoW publisher News International said: "We are fully co-operating with the police investigation and we are unable to comment further on matters due to ongoing police investigations."
On Thursday, a 38-year-old man, named by the Guardian as former News of the World journalist James Desborough, was arrested and released on bail.
Operation Weeting has arrested a total of 14 over alleged phone hacking.