Brazil arrests tourism officials in corruption probe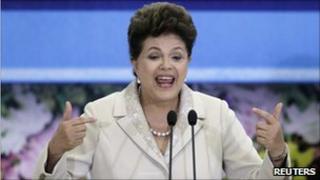 Brazilian police have arrested more than 30 tourism officials and business leaders, including Deputy Tourism Minister Frederico Silva da Costa.
They are accused of conspiring to divert public money for private gain, charges they deny.
Almost 200 police took part in the operation to detain the suspects.
Mr Costa is the third high-ranking official caught up in corruption allegations since President Dilma Rousseff took office in January.
Prosecutors said the suspects had awarded contracts at inflated prices to complicit firms that often were not qualified to carry out the work.
Arrests warrants were issued for 38 people and by late Tuesday, 35 were in custody, Brazilian media reported.
The officials were arrested in the cities of Brasilia, Sao Paulo and Macapa.
The arrests come in the wake of allegations of corruption at the ministries of agriculture and transport.
Prosecutors seized a number of computers at the agriculture ministry on Monday, and Agriculture Minister Wagner Rossi has been asked to appear before an ethics commission.
Mr Rossi is a member of the Democratic Movement Party of Brazil (PMDB), President Rousseff's largest ally in Congress.
Last month, Transport Minister Alfredo Nascimento and more than 20 officials resigned over allegations of kickbacks at the ministry of transport.
Mr Nascimento stepped down after a magazine alleged staff at his ministry were skimming off money from federal infrastructure contracts.
And in June, the president's chief of staff Antonio Palocci resigned after press reports questioned his rapid accumulation of wealth.
Brazilian paper Folha de Sao Paulo said Mr Palocci's net worth had increased 20-fold in four years.
All have denied any wrongdoing.