Syrian unrest: Tension high before Ramadan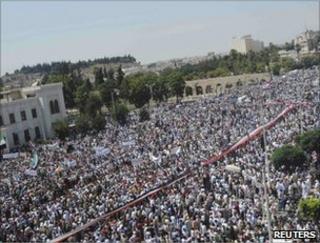 Shadi Abu Fakher, a filmmaker in his mid-20s, went missing early this week while wandering around central Damascus.
His friends have set up a support campaign on Facebook and released white balloons with "Free Shadi" written on them. He is one of many who have been arrested.
For four months, anti-government protests have appeared to gain momentum week by week but as the holy month of Ramadan starts, the expectation is that protests will grow. Operations by security forces have also intensified.
"Syria has become a big prison," says Ammar Qurabi, head of the National Human Rights Organisation in a statement issued to condemn the mass arrests against peaceful campaigners.
"In the last few days, at least 600 were arrested in Rukn al-Dine, 300 in one day in Kanakera and 150 in Zabadani," Mr Qurabi told the BBC.
"Those arrested are all aged between 15 and 40. They are stepping up the security assault as there are concerns more protests will take place and cities and towns that haven't joined the protests will do so in Ramadan."
'Thousands arrested'
Avaaz, the global campaign movement, said in a recent report that since 15 March 1,634 had died in the crackdown.
The group estimated that 2,918 people had disappeared, about 26,000 had been arrested with many of them beaten and tortured, and 12,617 were still in detention.
"Hour by hour, peaceful protesters are plucked from the crowds by Syria's infamously brutal security forces, never to be seen again," said Ricken Patel, executive director at Avaaz.
"President Assad's attempt to terrorise Syrians into submission isn't working, but they urgently need the international community to demand the release of the disappeared and a transition to democracy."
The Local Coordination Committees (LCC), which represent the protesters, estimate that about 40,000 people have been arrested since the start of the protests, with at least 15,000 still behind bars. They have just launched "Detainees Week".
The committees, which have documented all the human rights violations, are releasing information on the numbers of detainees and their names, posting this on walls in busy streets.
Tension appears to be increasing in several Syrian cities and towns with military and security operations across the country.
The government says it is targeting armed gangs and blames the killing of both civilians and military personnel on them. Officials also warn that Salafist militants are trying to turn the country into an Islamic state.
But protesters say it is the security forces that are carrying out the killings of unarmed civilians.
Many people are holding their breath awaiting the start of Ramadan. Sources close to the regime say there will be a strong security crackdown and no tolerance towards the protesters.
'Tortured in custody'
In Qaboun, an area of Damascus that saw some big protests in last weeks, the security crackdown succeeded in stopping protesters from taking to the streets in recent days.
Zaher, a local resident, says they have arrested hundreds of people in the last few days: "Security forces are there all the time and it was hard to move around on Friday.
"They checked my ID and wanted to prevent me from leaving my house or coming back to it but I didn't accept that."
Zaher lives in Qaboun but did not take part in any protest. Still, he is fed up with the way the authorities are dealing with the situation.
"Enough of humiliation and repression," he says.
Mr Qurabi says the authorities are using torture and humiliation, forcing detainees to strip.
Activists have released several videos on YouTube which appear to show evidence of torture of detainees with children among them, including 13-year-old Hamza al-Kahtib.
The BBC cannot verify these videos but many people who left prison alive speak about severe torture.
"I was beaten and left for days in solitary confinement," said one, who asked not to be named.
"They would beat me until I passed out, put me in a tank, throw cold water on me, then start beating me again.
"Three of them would stand on my body and start kicking and beating me, using degrading language. They even covered my face with faeces."
It took the activist only a few days to recover from his detention and get back to protesting in the streets again.