Norway killings: 'I could smell the blood'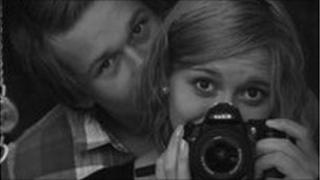 Norwegian Prime Minister Jens Stoltenberg has said his country will "not be intimidated or threatened" by Friday's bomb and gun attacks. Tuva Elise Akersveen Bo survived the shootings on Utoeya island and shared her story with the BBC.
"I've been to the camp in Utoeya twice, so this was my third time. It was supposed to be fun - I was looking forward to it.
Then this happened.
When we first heard the shooting, we ran to the window. My friends and I looked outside and a man dressed in a police uniform yelled: "Get away from the windows, get in the hall."
I panicked and lay on the ground.
I then heard the shots in the hall. I got up and saw his face and that image of him was imprinted on my mind - I see it all the time.
He shot the boy in front of him and started reloading.
I was just staring at him until my friend grabbed my arm and dragged me down. For a moment we started laughing, out of shock.
Then another friend ran in and shouted at us to run.
I was frustrated and shouted: "I don't have shoes". I don't know why I said that.
Then my friend shook me and I thought "screw it" and we ran outside.
We then decided we needed to make a plan about where we were going to run.
My friend and I took charge and shouted out a plan to about 50 people: we would go towards the woods.
As we were running, we ran into the woods and saw a boy who was shot in his leg.
We didn't stop and I feel so guilty about that now.
We ran for 10 minutes and then hid in long grass. We took our colourful clothes off so he wouldn't see us and we turned our phones on silent.
There was an eight-year-old boy with us - I felt so sorry for him. He should be playing, I thought, not running away.
Every time we started running, we dispersed and lost members of the group. Some went in different directions, others at the back got shot.
In the end, I was with two friends. We went to the back of the building, ran inside and locked ourselves in a room. We hid under bunk beds.
It was then that I realised that my hip was dislocated and my feet were all cut from running on rocks. I hadn't even felt the pain before.
For two hours we were texting people we loved, our families and friends, saying that if something happened we loved them and we'd remember them. We were almost saying goodbye.
Mixed feelings
In the end a friend rang us and told us the police had arrived. When we were sure it was her, we told her where we were and the police got us.
When we walked past dead bodies, the police told us to look the other way.
But I couldn't help it. I looked each time, and saw dead people, shot in their backs as they were crawling into their tents. Others were still holding their mobile phones.
There was so much blood, I could smell it.
Finally I met with some friends and we cried.
We had mixed feelings: everyone was extraordinarily happy because they had survived but also devastated because many of us were dead.
Sondre, my very very good friend, was missing. I loved that boy with all my heart.
I met him in the camp last year - Utoeya is the reason why I found him and now I fear it's the reason why I lost him.
I'm going to go back to Utoeya next year. I want to show that horrible person that he can't hurt us anymore."