FBI to contact Jude Law over phone hack claims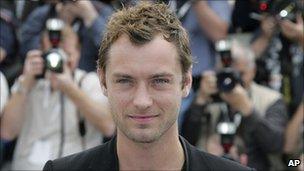 The FBI plans to contact the actor Jude Law following claims that his mobile phone was hacked during a visit to the US, officials have told the BBC.
It is alleged that a 2003 story by the News of the World newspaper was based on information from Law's voicemail.
If the accusation were true, Rupert Murdoch's News Corporation could face charges in the US.
The FBI is already investigating claims the Sunday tabloid tried to hack the phones of victims of the 9/11 attacks.
It was alleged in a lawsuit filed by Law last week that his phone and that of his personal assistant, Ben Jackson, had been hacked by the News of the World while the pair were at New York's John F Kennedy Airport.
An article in the News of the World published on published on 7 September 2003 gave a detailed account of the actor's communications with his assistant.
Law's phone would have been using an American mobile network if used in the US, which could open the door to charges under US federal law, says the BBC's Steve Kingstone in New York.
The 38-year-old actor's British publicist declined to comment on the matter.
Law has also taken legal action against the Sun newspaper, a stablemate of the News of the World. He claims the Sun hacked his voicemail for four articles published in 2005 and 2006.
News International, the UK newspaper arm of News Corporation, said last week those claims would be "defended vigorously".
"We believe this is a deeply cynical and deliberately mischievous attempt to draw the Sun into the phone-hacking issue," News International said in a statement.
"The allegations have been carefully investigated by our lawyers and the evidence shows they have no foundation whatsoever," it added.
The development came as evidence on phone hacking given to British MPs by News International chairman James Murdoch was called into question .
He told the media committee on Tuesday he had not been "aware" of an email suggesting the practice went wider than a "rogue" News of the World reporter.
But Colin Myler, a former editor of the Sunday tabloid, and ex-News International legal manager Tom Crone have now said they "did inform" him of the email.
The News of the World was shut down this month after allegations surfaced that it had hacked the phones of a murdered schoolgirl, the victims of London's 2005 terrorist bombings and the families of dead British soldiers.
Related Internet Links
The BBC is not responsible for the content of external sites.