Earthquake off Japan triggers tsunami alert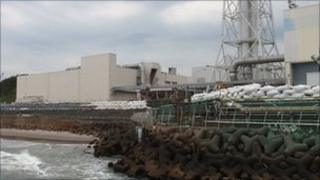 A strong earthquake has jolted north-east Japan, the same area that was devastated four months ago.
It triggered a small tsunami in Iwate prefecture, measuring 10cm (4in).
Workers at the Fukushima nuclear power plant were evacuated as a precaution, after a tsunami alert was issued, and residents were warned to head for high ground.
But there are no reports of damage or injury so far, and the alert now has been lifted.
The earthquake had a magnitude of 7.1 on the Richter scale, and hit at 0957 local time (0057 GMT).
The US Geological Survey estimated its depth at 10km (6.2 miles), with the epicentre in the same general area as the massive quake on 11 March.
That was the strongest in Japanese history, with a 9.0-magnitude, and killed more than 14,000 people in combination with an overwhelming tsunami.
Initially the Japanese Meteorological Agency warned of a 50cm (20in) tsunami across Iwate, Miyagi and Fukushima prefectures in the latest quake.
It turned out to be barely perceptible along most of the coast.
The operator of the crippled Fukushima Daiichi nuclear plant, Tokyo Electric Power Company, reported no fresh problems there.
Airports in the area are reported to be functioning normally.
Japan is one of the world's most seismically active countries. Dozens of strong aftershocks have been felt since the disaster in March.