UN urges more funds for early HIV treatment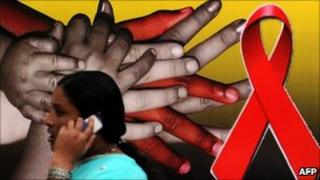 The UN Programme on HIV/Aids (UNAids) has called for increased funding for the early treatment of people with HIV.
The head of the agency, Michael Sidibe, said a new study showed it could reduce the risk of HIV transmission by 96%.
He said the challenge was to expand access to drugs, and deal with social factors which stigmatise the disease.
On Thursday, a UN report said there had been a nearly 25% decline in new HIV infections and a reduction in Aids-related deaths during the past decade.
It was published ahead of the 30th anniversary on Sunday of the first official report on Aids by the US Centers for Disease Control and Prevention.
The General Assembly is to meet at UN headquarters to discuss the epidemic next week, with 20 world leaders and more than 100 ministers expected to attend.
An estimated 34 million people were living with HIV at the end of 2010 and nearly 30 million have died from Aids-related causes since 1981, the report said.
'Shunned disease'
In the report published ahead of the anniversary, UNAids said the global rate of new HIV infections had declined by nearly 25% between 2001 and 2009.
In India, the rate of new HIV infections fell by more than 50% and in South Africa by more than 35%; both countries have the largest number of people living with HIV on their continents.
The report found that in the third decade of the epidemic, people were starting to adopt safer sexual behaviour, reflecting the impact of HIV prevention and awareness efforts. But there were still important gaps, it warned, with young men more likely to be informed about HIV prevention than young women.
There has also been significant progress in preventing new HIV infections among children as increasing numbers of mothers living with HIV have gained access to antiretroviral prophylaxis during pregnancy, delivery and breastfeeding.
About 6.6 million people in low- and middle-income countries were receiving antiretroviral drugs at the end of 2010, a nearly 22-fold increase since 2001.
"Thirty years ago this mystery disease was called a gay plague - it was a shunned disease, people were scared about each other," Mr Sidibe said. "Now it's a completely different world - we've been breaking the conspiracy of silence."
However, the report found that at the end of last year nearly nine million people who needed treatment were not getting it, and that treatment access for children was lower than for adults.
And while the rate of new HIV infections has declined globally, the total number of HIV infections remains high, at about 7,000 per day.
The report also noted that there had been an increase in the rate of new HIV infections in Eastern Europe and in the Middle East and North Africa, and that HIV was the leading cause of death among women of reproductive age.
'Game-changer'
UNAids also said that while funding for HIV treatments in low- and middle-income countries had risen 10-fold between 2001 and 2009, international resources had declined in 2010. Many states remain dependant on external financing.
"I am worried that international investments are falling at a time when the Aids response is delivering results for people," Mr Sidibe said. "If we do not invest now, we will have to pay several times more in the future."
He stressed the importance of a recent trial, which found that if a person living with HIV adhered to an effective antiretroviral regimen, the risk of transmitting the virus to their uninfected sexual partner could be reduced by 96%.
"Access to treatment will transform the Aids response in the next decade. We must invest in accelerating access and finding new treatment options.
"Antiretroviral therapy is a bigger game-changer than ever before - it not only stops people from dying, but also prevents transmission of HIV to women, men and children," he added.
Mr Sidibe said the challenge was to expand access to drugs, and deal with social factors that in some countries continue to stigmatise the disease and make women particularly vulnerable.
To do this, UNAids believes an investment of at least $22bn is needed by 2015, $6bn more than is available today. It estimates such funds would stop 12m new HIV infections and 7.4m Aids-related deaths by 2020.