How De Valera asked UK to smear IRA chief Sean Russell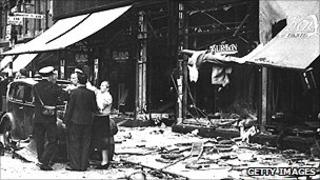 Newly released documents suggest that the man who helped secure an independent Ireland, Eamon de Valera, covertly co-operated with Britain to crush the IRA.
The papers reveal that De Valera, whose entire cabinet in the late 1930s were former IRA members, asked London to help smear the organisation's chief of staff as a communist agent.
Tensions came to a head when the IRA began bombing Britain in early 1939.
Under what was called the Sabotage or S-Plan, British cities including London, Manchester, Birmingham and Coventry were targeted by IRA explosive teams.
In one attack on Coventry five people died and 70 more were injured.
'Old enemy'
Dublin, which is recorded as being "seriously disturbed" by the IRA bombings, reacted even more forcefully than London.
De Valera's government regarded IRA attacks against Britain as a threat to the Irish state itself.
With war looking likely, De Valera was determined that Ireland should remain neutral.
He knew that a hard rump of Republicans would never countenance being allied to the "old enemy" Britain, and such an alliance could push Ireland into another bloody civil war.
But he also knew that, if his country was seen as a threat, London might decide to invade.
It seems hard to believe that this was the same militant Republican who had been at the forefront of the Easter Rising against British rule in 1916.
After becoming prime minister of the Irish Free State, he outlawed the IRA in 1936, and his commitment to pursuing Irish unification by constitutional means led him to part company with many of his former comrades-in-arms.
Yet few would have guessed that he would soon be accepting British help to crush them.
Fear of 'martyrs'
In 1939, as the documents show, De Valera's government asked for assistance from London in smearing IRA chief of staff Sean Russell as a communist agent:
"It is believed that some 10 or 12 years ago, he was in Soviet pay as an agitator; If there is any information which could be made available to show that this was the case, or that at the present time he is in receipt of pay from foreign sources, it would be of the greatest possible assistance to the Dublin authorities in dealing with him since it would practically eliminate the risk of him being treated as a patriotic martyr…."
Dublin also called on London to consult them on sentences imposed on IRA members convicted of the bombings in Britain.
De Valera was worried that those executed at British hands might become martyrs at home. But he had no such qualms over those convicted of bombings in Ireland.
In fact, De Valera's government executed more IRA members than Britain and even borrowed the UK's most famous executioner, Albert Pierrepoint, to hang one of them.
During the war, Dublin went on to intern more than 1,500 IRA suspects, and several died while on hunger strike in Irish jails.
Help from Hitler
As a result, the IRA began to look to Nazi Germany for help.
Not long after the first bombs had gone off in Britain, Sean Russell and IRA head of explosives Jim O'Donovan, went to Berlin for a meeting with German military intelligence, the Abwehr.
At that point, Hitler refused to fund their S-Plan bombing campaign because of fears of provoking conflict with Britain. But, once war had broken out, he did agree to send money, transmitters and spies to Ireland.
Many of the latter proved somewhat inept.
In July 1940, three German spies - one of them an Indian national - capsized before landing in Ireland.
Two of them could not speak English and the Indian agent stood out in rural Ireland. After finally making it ashore, one asked a policeman if they were anywhere near Cork.
All three were promptly arrested.
Yet despite all this, Jim O'Donovan was falling under Hitler's spell. In fact, during the early years of the war, he became increasingly interested in Nazi ideology and visited Germany three times.
Speaking for the first time about his father's work with the Nazis, Gerard O'Donovan - who was a young boy during the conflict - told me how he still remembers one regular wartime visitor to their home in Dublin:
"There was a room off the dining room where there was a radio transmitter. A man used to come every Saturday and send messages to Germany on that radio… and we children used to call (him) Mr Saturday Night."
Jim O'Donovan died in 1979 without, according to those who knew him, any regrets about his involvement with the Nazis.
Sean Russell, who cared little for Nazi ideology, died aboard a German U-boat bound for Ireland in August 1940.
'Pristine' image
The S-Plan was ultimately a failure.
After just over a year, it ground to a halt, largely due to a string of botched attacks, lack of funds and the crackdowns against the IRA in London and Dublin.
Some in Ireland may well have suspected at that time that their government was secretly co-operating closely with Britain, a country many still considered their enemy.
Yet only now can such suspicions be confirmed.
What, one wonders, might the consequences have been for Eamon de Valera, had his people known then what has come out now?
Donnacha O Beachain is a lecturer in Politics at Dublin City University and the author of a book on Fianna Fail and Irish Republicanism:
"It certainly would have undermined De Valera's image of being the pristine Republican leader who had heroically and unstintingly challenged the British. I think it would have been difficult for him to present that image, and it's something that he treasured.
"The publicity of such co-operation would be very detrimental to De Valera's image and therefore his electoral prospects."
As it was, Prime Minister (Taoiseach) Eamon de Valera continued a long and successful career in Irish politics.
He won eight elections over the period of the 1930s, 40s and 50s and ended his career as president of Ireland between 1959 and 1973, when - at the age of 90 - he was the oldest head of state in the world.
As for the IRA, it was a spent force for the next 20 years until it came back with another bombing campaign - this time targeted at Northern Ireland.
Document will be broadcast on Monday 28 March at 2000 BST on BBC Radio 4 and will also be available via the BBC iPlayer .