MoD names UK soldier killed by Afghanistan bomb blast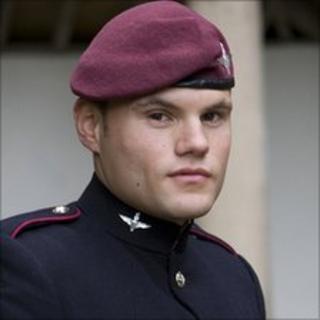 A UK soldier who died of his injuries after a bomb blast in Afghanistan has been named as Pte Daniel Steven Prior.
The 27-year-old, from 2nd Battalion the Parachute Regiment, died after being flown back to the UK following Thursday's blast in Helmand province.
His uncle, after whom Pte Prior was given his middle name, had died fighting for the same battalion in the Falklands War in 1982 - also aged 27.
Some 360 UK personnel have died in operations in Afghanistan since 2001.
Pte Prior had been providing fire support for his fellow paratroopers and the Afghan National Army during a patrol in a small village when he was hit by an improvised explosive device (IED).
He died on Friday in Queen Elizabeth NHS Hospital in Birmingham with his family at his bedside.
He had become a father for the first time recently following the birth of his son, Logan, the Ministry of Defence said.
'Tremendously proud'
The soldier flew back to the UK for the birth four weeks ago, and stayed at home for two weeks, before returning to active duty.
He was born in Brighton in East Sussex and his hometown was at nearby Peacehaven, but he lived in Colchester, Essex, with his wife Emily and their newborn son.
He also leaves behind his father Ian, and mother Gillian.
In a statement, his family said: "Dan was a lively young man with an amazing sense of humour. He was a wonderful son, husband and father.
"We are all tremendously proud of him and he will be sorely missed by his family and friends."
His commanding officer, Lt Col Andrew Harrison, said the "bright, inspiring and able paratrooper" knew the risks of war more than almost anyone as his uncle died the year before he was born in the Falklands War battle of Goose Green.
'Smallest consolation'
Lt Col Harrison said: "On the anniversary of the battle last May he sat with me to honour his uncle. They both fell aged only 27.
"For a second time the Prior name will be carved into the battalion's memorial.
"Dan Prior's sacrifice has cost a joyful future with his wife Emily and his three-week-old son, Logan.
"It is the smallest consolation that he passed away having seen Logan on a recent trip home. He talked of little else during the intervening weeks."
L/Cpl Chris Wilmott, of 2nd Battalion The Parachute Regiment, served alongside both Pte Prior and his uncle Steve in the late 70s.
He said: "We will all remember Dan for his professionalism and dedication. He was without doubt focussed, conscientious and destined for great things."