Life in Iraq as seen by travellers at Baghdad airport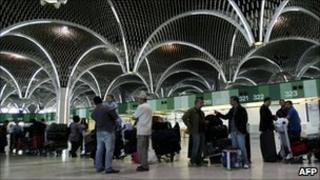 Many of the passengers passing through Baghdad airport have very powerful reasons to want to travel to or leave Iraq, and have extraordinary stories to tell.
As you head west out of Baghdad, three starfish-shaped terminals loom out of the desert. What was once Saddam International Airport, is now more commonly known as its US military acronym: the BIAP.
Baghdad International Airport is, in many ways, an airport like any other, with the same soulless halls and overpriced coffee shops. It has the same security scanners and bleepers, although many more of them than you would expect elsewhere.
What sets it apart are the people. The people coming in: the pilgrims and mercenaries - and the people going out: the businessmen and refugees. And, of course, the airport employees who work here every day.
These are people who have lived lives close to the extremes of human experience, on the brink of tragedy, or the fringes of violence. Their stories provide a window on a country slowly trying to recover from years of conflict.
Blown up
Eman Hassan runs the lost-and-found department. She is a small, almost bird-like figure, with a blue suit, patterned head scarf, and direct eyes. As she checks the baggage handling area for stray cases and parcels, she has a huge sense of energy about her, a sense of purpose.
Perhaps that is because she very nearly never walked again.
"I was driving on the highway. My husband called me and said, 'There has been a seventh car which got a bomb today. So drive back home. It is a very dangerous day.'"
Eman made a U-turn at the end of the road and drove straight into another explosion.
The blast threw her car into the air, flipped it over three times, and sent her crashing through the front windscreen, breaking her back.
"Any strange movement, I can lose my movement, forever. So I try to be patient, to stay in bed."
Unsafe for children
That was 2005. Eman went to Jordan for treatment and to convalesce. Her husband and four children dropped everything to nurse her slowly back to health.
Now she is back in Baghdad, on her feet and back at her old job, enjoying every minute of it.
But her children are still abroad. Now is not the time for them to come home, she says. Iraq is still too dangerous, too unstable.
But there are plenty of people for whom the risks are worth the reward.
You come across all sorts pushing their trolleys through customs in the arrivals hall - politicians and businessmen, fresh from deals abroad, Muslim clerics and Christian priests in an almost endless variety of robes and gowns. Shia pilgrims, mostly from Iran, come to visit Iraq's many holy shrines.
Invariably there are the Western bodyguards, waiting around to pick up their charges - Western businessmen or diplomats.
"The threat is very much still there," says Rob, a towering hulk of a man in his early 40s. "I'm sure all the guys will admit to you that they still go out knowing that something can happen."
Lucrative
Rob is a fairly typical example: ex-British military, he is now making considerably more money as a PSD - personal security detail.
He has been working in Iraq since 2007, and despite the risks he still faces, he does admit, things have got better.
"When I first came here, when you went through towns like Falluja and Ramadi, they'd spit at you, throw stones at you. Now a lot more people are waving, smiling - that's changed."
In return for risking their lives, men like Rob can earn £90,000 ($146,000) a year, sometimes more, mostly tax-free.
They are at or near the top of a long ladder of what might loosely be termed migrant workers, people who have found employment in Iraq.
You will come across plenty of others too - like the Ugandan mercenary we met on his way back to Kampala. He had been away from home for two years, under contract to the US military. When he left, he had not even told his wife where he was going, for fear she would try to stop him.
One-way or return?
Then there are those at the bottom of the ladder - the Bangladeshi cleaners working seven days a week, week in week out, living at the airport, and paid so little they cannot afford the plane fare home.
In the departures lounge, some were leaving for good, like the Iraqi Christian mother and daughter, hoping to find refuge in Jordan after their church was bombed by al-Qaeda .
And some were determined to return.
We met a young couple who had scraped together the money to pay for an expensive eye-operation for their son. The procedure was not available in Baghdad, so they were on their way to Beirut. But they would be back, they said. No emigration for them.
Back in her lost-and-found department, Eman Hassan agreed. "In Jordan there is no future," she said, speaking of her children. "There are no jobs for Iraqis."
"The best chance for our kids is here, in Iraq, but when it is safe here. When it will be quiet, when [there will] be ordinary life, the best future is here."
But Iraqis continue to die in near-daily bombings and shootings. So when did Eman think it might be safe for her children to return?
"With the blessing of God," she says, "I don't know."
You can hear Gabriel Gatehouse's programme from Baghdad airport on Crossing Continents on BBC Radio 4 on Thursday 24 March at 1100GMT or on Monday 28 March at 2030BST. You can also get it on the iPlayer or download the podcast.