Arab uprising: Country by country - Jordan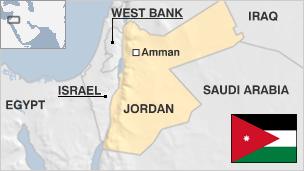 Jordan has so far been spared the major unrest that has seen other Arab rulers toppled.
Protests began in January 2011, with people calling for more jobs and an end to government corruption. They soon demanded greater democracy and for the king's powers to be reduced.
The demonstrations have been largely peaceful, though there were deadly clashes with security forces in November 2012 after thousands took to the streets to show their anger at the government's abolition of fuel subsidies. The move was demanded by the IMF in return for a loan to bail out Jordan's debt-saddled economy.
In January 2013, parliamentary elections were held two years early, with the king promising to consult parliament over the choice of prime minister for the first time. However, opposition parties - led by the Muslim Brotherhood's Islamic Action Front - boycotted the polls. They said changes to the electoral law meant the system was rigged in favour of rural indigenous Bedouin, who dominate the government and security forces, against the predominantly Palestinian populations of towns and cities, where opposition support is traditionally strongest.
In March 2013, King Abdullah insisted he could lead the transition to democracy, in part to ensure that power was not delivered to Islamists. He also blamed the secret police for blocking his efforts at political reform.
In August, the reform-minded Prime Minister Abdullah Ensour reshuffled his cabinet to strengthen the role of technocrats charged with speeding up the reforms demanded by the IMF, amid continued public resistance and the rising economic cost of more than half-a-million refugees who have fled the conflict in neighbouring Syria.