Japan drops China boat captain charge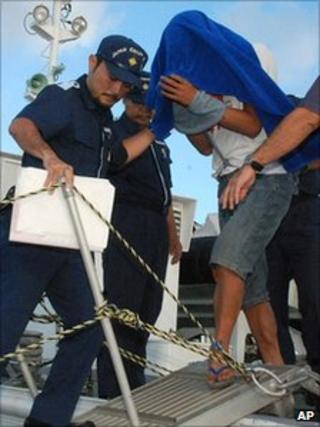 Japanese prosecutors say they are to drop charges against a Chinese trawler captain whose arrest last September led to a major diplomatic row with Beijing.
Zhan Qixiong was accused of ramming two Japanese patrol vessels near disputed islands in the East China Sea.
China said his detention was "illegal and invalid", and cut off ministerial-level contacts with Japan.
A Japanese ex-coastguard officer who admitted leaking a video of the collisions will also not face charges.
Masaharu Isshiki, 44, said he posted the coastguard footage on YouTube. His admission led to his resignation and disciplinary proceedings against others, including the head of the agency.
The video showed a Chinese fishing trawler bumping a Japanese coastguard vessel near disputed islands known as Senkaku in Japan and Diaoyu in China.
The decision to drop the case against the Chinese captain was widely expected, given that he had been freed and sent back to China two weeks after the incident.
Speaking at the time of his release in September, prosecutors said Mr Zhan was just a fishing boat captain and had no criminal record in Japan.
They said they did not perceive any premeditated intent to damage the patrol boats and therefore had decided that further investigation while keeping the captain in custody would not be appropriate, considering the impact on relations with China.
The move was seen as a diplomatic climbdown amid pressure from Beijing.
Japan's economy is dependent on exports for growth, and China is its biggest trading partner. Thousands of Chinese tourists also pulled out of trips to Japan.