Wikileaks: Swiss bank shuts Julian Assange's account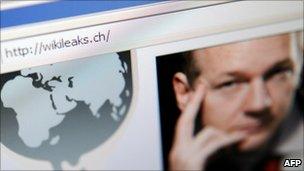 The Swiss post office's bank, PostFinance, has shut the accounts of Wikileaks founder Julian Assange.
The whistle-blowing website says the move affects a defence fund and personal assets worth 31,000 euros.
Wikileaks has published hundreds of secret US diplomatic cables, angering the US government and triggering moves by several companies including PayPal and Amazon to end their services.
Meanwhile, a warrant for Mr Assange's arrest has reached the UK authorities.
Sources have told the BBC that the European Arrest Warrant for Mr Assange arrived on Monday afternoon.
He is believed to be in hiding somewhere in south-east England. Once the police have located him, he would be expected to appear at a magistrate's court within 24 hours, pending extradition to Sweden, says the BBC's security correspondent Frank Gardner.
Mr Assange's UK lawyer, Mark Stephens, told the BBC: "We are in the process of making arrangements to meet with the police by consent in order to facilitate the taking of the question and answer that is needed."
Sweden first issued an arrest warrant for Mr Assange on 18 November but it was invalidated by a procedural error. A new warrant was issued on 2 December.
The move by Switzerland's PostFinance to freeze the Wikileaks accounts is the latest setback to hit the whistle-blowing website since it began publishing the US cables last week.
In a statement on its website, PostFinance said Mr Assange had "provided false information regarding his place of residence" during the account opening process.
"(Mr) Assange entered Geneva as his domicile. Upon inspection, this information was found to be incorrect.
"(Mr) Assange cannot provide proof of residence in Switzerland and thus does not meet the criteria for a customer relationship with PostFinance. For this reason, PostFinance is entitled to close his account."
"Late last week, the internet payment giant PayPal froze 60,000 euros of donations to the German charity the Wau Holland Foundation, which were targeted to promote the sharing of knowledge via Wikileaks," Wikileaks said in a statement.
'Verging on the criminal'
On Monday, Wikileaks released an extensive list of facilities around the world that, according to the latest leaked cables, the US describes as vital to its national security.
The list includes pipelines, communication and transport hubs.
Several UK sites are listed, including cable locations, satellite sites and BAE Systems plants.
This is probably the most controversial document yet from the Wikileaks organisation, says BBC diplomatic correspondent Jonathan Marcus.
Former UK Foreign Secretary Sir Malcolm Rifkind said WikiLeaks' actions were "verging on the criminal".
He told the BBC: "It's not just negligence, it's not just stupidity, it is something which can be of active assistance to terrorist organisations."
UK Defence Secretary Liam Fox echoed Sir Malcolm's remarks, saying: "I think you have to ask about the motives for those who are behind some of the WikiLeaks material. Do they see themselves as some sort of force of anarchy?
"These are some comments, these are selective leaks designed to drive a wedge between us and the Americans and I don't think we should tolerate that."
Related Internet Links
The BBC is not responsible for the content of external sites.