Extreme World: Education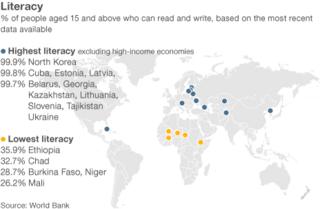 Part five of our Extreme World series looks at education. Literacy rates vary enormously around the world; in Mali, only 26.2% of adults over the age of 15 can read and write. In most developed countries the total is 99% or 100%.
Most of the 20 countries with the lowest literacy rates are in Africa, although Bangladesh and Pakistan are two notable exceptions with literacy rates of 53.5% and 54.2% respectively.
Many of these countries also educate fewer girls than boys. According to Plan International, only 3% of the female population attend school in Mozambique and Niger, which the charity estimates costs the economies of those countries millions of dollars in lost income.
Literacy rates are not the only way of measuring education standards. The World Bank ranks pupil to teacher ratio in primary schools. In the Central African Republic, there are on average 100 pupils per teacher - in Liechtenstein there are only seven pupils per teacher.
The biggest school in the world is reputed to be the City Montessori in Lucknow, India, which has 32,000 pupils.
Costs also vary enormously. The World Bank says the UK spends about 23.4% of its GDP per head on primary education - by comparison, Cuba spends about 44.7% of its GDP. The country did have a huge literacy problem, but a big drive to educate young people means the country now boasts a 100% literacy rate among young adults.
China has the largest higher education system in the world - serving almost 25% of the world's students.
The number of college students has soared from 6.2 million in 1998 to just under 24 million in 2008, compared to more than 14 million in the United States. Last year 6.1 million new graduates from Chinese universities entered the job market.