Extreme World: Dying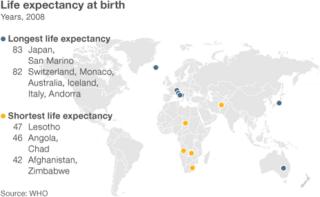 Part three of Extreme World looks at dying. The age people can expect to die varies enormously around the world - so how does it affect the way people live their lives?
The age people can expect to die varies enormously around the world - from 83 in Japan to just 42 in Afghanistan and Zimbabwe.
In most developed countries, life expectancy has been increasing steadily since the middle of the 20th century, mainly due to rising standards of living and the near-eradication of infectious diseases.
World Health Statistics, 2010
[4.84Mb]
In many developing countries, increasing child survival and medical advances have also led to improved life expectancies - although some sub-Saharan countries have been severely affected by HIV/AIDS.
Experts say the trend for living longer lives looks set to continue and people living to 100 and beyond are likely to become more common. According to United Nations projections, the world's centenarian population is expected to reach 2.2 million by 2050.
Japan has the world's most elderly population - more than 20% of the population is over 65 and there were 44,449 centenarians in September 2010.
A quality of death index published by the Economist Intelligence Unit in 2010, ranked the UK as the best place for end of life care.
Quality of death report
[3.411KB]
The index looked at a number of factors including life expectancy and healthcare spending, as well as public awareness of end of life care in 40 countries. It ranked India worst.
The Economist Intelligence Unit report identified one of the key challenges facing governments and providers of end of life care as how quickly they could improve the care infrastructure to cope with an ageing population.