Extreme World: Corruption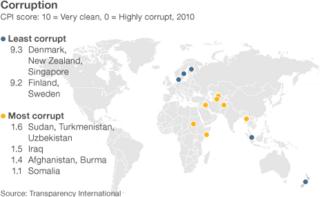 Part two of our Extreme World series looks at the theme of corruption. Correspondents will be investigating Sweden and Somalia - and asking whether they are all that they seem.
Corruption is the most talked-about global problem, according to a new BBC poll, surveying more than 13,000 people across 26 countries.
The findings showed more than one in five of those questioned said they had discussed corruption and greed with friends and family over the past month.
The Corruption Perceptions Index, published by the Berlin-based watchdog organisation Transparency International, ranks Denmark, New Zealand and Singapore as the world's least corrupt nations, followed by Finland and Sweden.
Somalia has once again been ranked the world's most corrupt nation - ahead of other war and strife-torn states like Burma, Afghanistan and Iraq.
The CPI measures the level of public sector corruption perceived to exist in 178 countries around the world and scores them from 0 - highly corrupt - to 10 very clean.
Somalia scored 1.1 in the 2010 index, Sweden came in second with a score of 9.2. Correspondents will be reporting from Sweden and the border of Somalia as part of the Extreme World series.
Transparency International was set up in 1993 to measure and monitor corruption. The CPI, which is published annually, draws on the results of 13 independent surveys, carried out by organisations like the World Bank and Economist Intelligence Unit. To determine the rankings - a minimum of three results must be available for a country to be included.
Among the countries which showed a marked deterioration from 2009 to 2010 were Italy and the United States. While Chile and Haiti were among those showing improvements.