Georgia 'breaks Russian spy ring'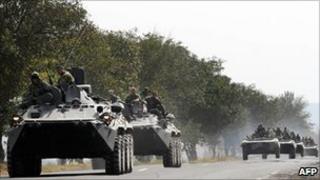 Georgia says it has dismantled a major Russian spy ring and arrested 13 suspects.
The suspects, including four Russian citizens and Georgian military officers, fed sensitive information to Moscow, the Georgian interior ministry said.
Moscow has described the arrests as a "provocation" and "a political farce".
Georgia and Russia fought a brief war in August 2008.
Interior ministry spokesman Shota Utiashvili told AFP: "This is a huge deal in terms of Georgia securing its military intelligence."
He also said that the arrests were a big blow to the GRU, Russian military intelligence.
A Russian foreign ministry statement said the arrests were a "provocation" timed to undermine Moscow's participation in forthcoming international summits.
Correspondents say the comments refer to a Russia-Nato summit in Lisbon later in November and an Organization for Security and Co-operation in Europe summit in early December.
"Let's wait, let's see, how convincing this political farce will be before giving our commentary," Grigory Karasin, Russia's deputy foreign minister, was quoted by RIA Novosti news agency as saying.
The 2008 conflict saw Russian forces pour into the country to repel a Georgian attempt to retake South Ossetia, a region that had broken away from Georgia in the early 1990s.
South Ossetia's independence was formally recognised by Russia shortly after the war.
In 2006 Georgia arrested four Russian military officers on espionage charges. The four were eventually released and returned to Russia.