UN: 'Significant progress' in human development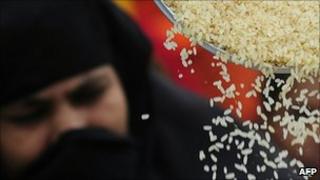 Launched 20 years ago with the simple line that "people are the real wealth of a nation", the United Nations' Human Development Report has become the most trusted annual indicator of progress in developing nations.
The 20th anniversary report charts progress going back 20 years before that first publication - so it is an ambitious attempt to chart development achievements - or not - going back 40 years.
The UN Development Programme's report concludes that since 1970 there has been significant progress - often underestimated until now - and that the fastest progress has been in some of the poorest countries. It also concludes that aid works.
Schools and hospitals
There has been most progress in the areas of health and education, sectors which have received most focus in development assistance.
After all this number-crunching, the UNDP believe that there is no magic bullet, one-size-fits-all route out of poverty - "no single model or uniform prescription for success".
Progress has been achieved in dictatorships and democracies, on islands and in landlocked countries, and in places with different colonial histories.
And this anniversary report is an affirmation of the starting point of the economists who began searching, a generation ago, for a better way of measuring the quality of human life.
The report concludes that progress does not depend on economic growth alone, but also on life expectancy, better access to health care, education, transport and so on.
There is no direct link between economic growth and improvement in human development: some countries have grown wealthier without necessarily improving the fortunes of those at the bottom.
The starkest example of this is the progress achieved for the poorest in Bangladesh, relative to India, although Bangladesh has not had economic growth at anything like the same level as its giant South Asian neighbour.
In Africa only three countries have gone backwards since 1970 - the Democratic Republic of Congo, Zimbabwe and Zambia - the first two because of conflict and bad government, and the last principally because of HIV/Aids.
Dozens of other countries across Africa have made far more progress particularly in health and education than had been assumed, and that is where the aid has gone.
Markets 'not the answer'
The report warns of worsening inequality both within and across countries. There have been periods when progress has gone backwards - particularly in countries of the former Soviet Union and Southern Africa.
And the market has not stepped in where institutions have failed: "Markets are very bad at ensuring the provision of public goods, such as security, stability, health and education", the report reads.
Future challenges to progress include climate change and the threat of further recession.
The report found that the global economic turndown pushed 64 million more people below earnings of $1.25 a day, the measure of absolute poverty.
In an introduction to the report, the Nobel-prize winning economist Amartya Sen, whose work inspired the Human Development Index, writes "the new challenges we face have intensified - for example, those surrounding the conservation of our environment and the sustainability of our well-being and substantive freedoms.
"The human development approach is flexible enough to take note of the future prospects of human lives on the planet".
At the other end of the scale Norway remains at the top of the list, with the highest human development.
The US is fourth, just ahead of Ireland, while the UK has slipped to 26th place - behind every other western European nation, and Hong Kong.
The Millennium Development Goals aim to tackle global poverty and improve living standards for developing countries. We've taken key indicators, broken down by UN-defined regions as shown here, and set the 2015 target as a baseline to reveal the true picture of how each region is faring.
Developing nations are on track to meet the poverty target largely because of progress in China. But in Sub-Saharan Africa and Western Asia the proportion of hungry people has increased. Globally, the number of hungry people rose from 842 million in 1990-92 to 1.02 billion people in 2009.
While countries in Sub-Saharan Africa have seen great improvements by abolishing school fees and offering free school lunches, the target is unlikely to be met. The drop-out rate is high, and although there has been some investment in teachers and classrooms, it is not enough.
Gender gaps in education have narrowed, but remain high at university (tertiary) level in some developing countries because of poverty. Employment for women has improved but there are still many more women than men in low-paid jobs. There have been small gains for women in political power.
Child deaths are falling but at the current rate are well short of the two-thirds target. They more than halved in Northern Africa, Asia,Latin America and the Caribbean but remain high in parts of Southern Asia. In Sub-Saharan Africa the absolute number of children who have died actually increased.
Although in all regions there are advances in providing pregnant women with antenatal care, the maternal mortality rate is unacceptably high, with progress well short of the decline needed to meet the target. Those at most risk are adolescent girls, yet funding on family planning is falling behind.
The HIV/AIDS epidemic has stabilised in most regions, but new infections are rising in some areas and antiretroviral treatment has mushroomed. Global funding has helped control malaria but is still far short of what is needed. On current trends tuberculosis will have been halted and started to reverse.
The world will meet the drinking water target on current trends but half the population of developing regions still lacks basic sanitation. The 2010 target to slow decline in biodiversity has been missed. Improving the lives of 100 million slum dwellers has been achieved but their actual numbers are rising.
Levels of aid continue to rise, but major donors are well below target. In terms of volume the USA, France, Germany, UK and Japan are the largest donors. G8 countries have failed to deliver on a promise to double aid to Africa. Debt burdens have been eased for developing countries.
BACK
{current} of {total}
NEXT