Japan rejects China's demand for formal apology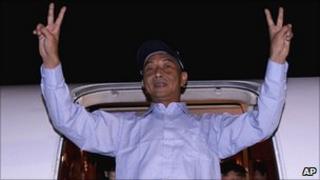 Japan has turned down China's demand for a formal apology after releasing a Chinese fishing boat captain who was detained for two weeks in Okinawa.
Zhan Qixiong was arrested earlier this month after his trawler collided with two Japanese patrol vessels near disputed islands in the East China Sea.
Despite his release, the two countries remain locked in their worst diplomatic row for years.
Tensions were further heightened when China detained four Japanese this week.
The four who were working for a Japanese construction company were questioned on suspicion of filming in a military zone.
'Totally groundless'
Mr Zhan left Okinawa on Friday evening on a specially chartered plane sent by the government of China.
After his release, the Chinese foreign ministry issued a statement reiterating its "strong protest" and what it called its "indisputable" claim to the islands.
"The Japanese side must make an apology and compensation for this incident," the statement said.
A Japanese foreign ministry spokesman described China's demand as "totally groundless" and said it could not be accepted.
Tokyo insisted it had handled the case strictly in accordance with its own laws.
After landing at Fuzhou Airport in Fujian Province, Zhan Qixiong said he was thankful to be free and repeated his claim of innocence.
"The Diaoyutai Islands are a part of China. I went there to fish. That's legal," said the fisherman.
"Those people grabbed me - that was illegal," he said.
Prosecutors in Japan said their decision to release the captain was based on the deepening rift between Beijing and Tokyo.
They said they did not perceive any premeditated intent to damage the patrol boats and therefore had decided that further investigation while keeping the captain in custody would not be appropriate, considering the impact on relations with China.
Japanese Prime Minister Naoto Kan said the aim was to promote "mutually beneficial" ties with China.
Concerts cancelled
"Prosecutors came to their judgment in compliance with their duty on the basis of Japanese domestic law. In any case, China and Japan are important neighbours," said Mr Kan, who was attending the UN General Assembly in New York.
Tensions had escalated since Japan detained the Chinese captain.
Beijing cut off ministerial-level contacts between the two countries and thousands of Chinese tourists pulled out of trips to Japan. Concerts by Japan's top boy band SMAP due to take place in Shanghai were cancelled by the Chinese organisers.
Earlier this week Chinese Premier Wen Jiabao said that Japan bore full responsibility for the situation and demanded the immediate release of the captain.
On Thursday, US Secretary of State Hillary Clinton urged the two sides to settle the issue before it had a long-term impact on the region.
The Japanese coastguard arrested Zhan Qixiong on 8 September after his trawler collided with two of their patrol boats in an area claimed by both countries, near uninhabited islands which may have oil and gas deposits.
Japanese prosecutors had until next Wednesday to decide whether or not to charge the man.