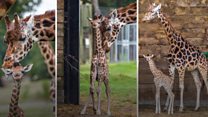 Video
Endangered giraffe born at Woburn Safari Park takes first steps
One of the world's "rarest" species of giraffe calf is making itself at home under the eye of "experienced parents" at Woburn Safari Park.
The Rothschild's giraffe calf is less than a week old but appears "happy and healthy", keepers at the Bedfordshire park said.
Classified as endangered by the IUCN (International Union for the Conservation of Nature), it is thought there are only 1,600 of the species living in the wild.
"We are all thrilled with the new arrival and can't wait to see the calf grow and integrate with the other giraffes," acting deputy head of reserves Tom Robson said.
The calf, thought to be a female, has not yet been named.
Go to next video: Russians under threat over video about gay man