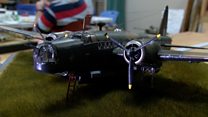 Video
The real model army helping veterans with mental health issues
Servicemen and women living with post-traumatic stress disorder (PTSD) are rebuilding their lives with a new therapy.
More than 100 people are enrolled with the Berkshire charity Models for Heroes that runs classes in how to make intricate scale models of a variety of military, civilian and science fiction aircraft and vehicles.
The charity relies on donations from modellers who've got a surplus of unmade kits, known as their "stash".
The therapy works by concentrating the mind on one small, detailed task that allows it to focus and then relax.
Video journalist: Ben Moore
Go to next video: Milk poured down drains as crisis hits farms