Liberty Stadium operator claims venue has structural defects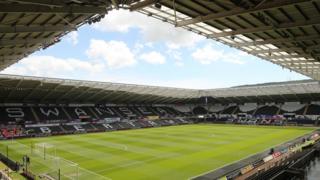 The operators of Swansea's Liberty Stadium have claimed the venue has structural defects.
Swansea Stadium Management Company (SSMC) is suing Swansea Council and the stadium builder, Interserve Construction Ltd.
It alleges the £27m stadium's steel structure is suffering corrosion and claims visitors have fallen due to problems with slippery surfaces.
The council denies responsibility for the alleged defects.
SSMC is seeking about £1.3m in damages with the claim, issued in April 2017, due to be heard at the High Court in October.
Swansea Council says part of the claim against it has already been struck out at the High Court. Some of the claim against Interserve Construction was also also struck out after being submitted too late.
Opened in 2005, the stadium is home to both Swansea City Football Club and professional rugby club Ospreys and has hosted rock acts including The Who, Rod Stewart and Kings of Leon.
SSMC - a venture between the football and rugby clubs as well as local council - ran and maintained the venue under the terms of a 50-year lease.
However the football club gained control of SSMC last winter in a deal generating an annual rental income of £300,000 for the council.
'Protect taxpayers' money'
A council spokesman confirmed SSMC was seeking damages for the alleged defects to the structure.
He said: "The council has clearly stated we are not responsible for the alleged defects and we will robustly defend our position in order to protect Swansea taxpayers' money."
SSMC also claim visitors have previously fallen on slippery surfaces on the concourse and mezzanine floor .
It is understood this issue has now been resolved but the management company is attempting to recoup the money it says it has spent putting it right.
A spokesman said: "We are limited about what we can say due to the ongoing legal proceedings. However it is very important for us to state there are no safety issues at the Liberty Stadium."
A spokesman for Interserve Construction said most of the claim against it was struck out against because it was submitted beyond the 12-year deadline.
He added: "The claim that is left is in respect of clause 16 in the contract, which is essentially defects that were identified in the defect liability period, one year after practical completion, with a question as to whether these defects were made good or not."