Pembroke oil refinery blast: Charges brought against companies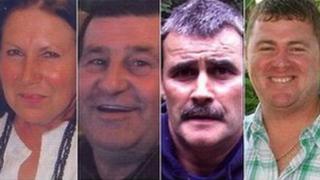 Two companies will face prosecution over an explosion at a Pembrokeshire oil refinery in which four people died.
Dennis Riley, 52, Robert Broome, 48, Andrew Jenkins, 33, and Julie Jones, 54, died in June 2011 when a storage tank exploded.
Valero Energy UK and B&A Contracts will face charges under the Health and Safety at Work Act, according to the Health and Safety Executive (HSE).
The Pembroke refinery was owned by Chevron at the time of the incident.
A spokesman for Valero said it was named in proceedings because it bought the refinery after the incident.
The four people were killed when a 160,578-gallon (730,000 litres) storage tank exploded, damaging a vessel next to it.
Another employee, Andrew Phillips, was also seriously injured in the blast.
The Crown Prosecution Service said there was insufficient evidence to pursue charges against the companies in 2015 following a four-year inquiry by Dyfed-Powys Police, but the HSE continued with its own investigation.
When the police investigation was at its height in 2012, Dyfed-Powys Police said inquiries had been made with in excess of 1,800 potential witnesses with over 200 providing statements.
The HSE's deputy director of field operations, Jane Lassey, said they had been working with police over the last three years.
"Valero Energy UK Limited and B&A Contracts Limited are to face charges under Sections 2(1) and 3(1) of the Health and Safety at Work etc Act 1974," she said.
"Following a painstaking and extremely thorough investigation, we have concluded that there is sufficient evidence to bring criminal charges."
The companies will be at Haverfordwest Magistrates' Court on 24 September.
The Valero Energy Limited spokesman said: "We can confirm we have been informed that the Health & Safety Executive is to bring proceedings against Chevron in relation to the incident at Pembroke Refinery in 2011.
"Valero itself is named as a party to the proceedings simply because of its subsequent acquisition of the refinery."