'Traumatic' scenes as swan kills 20 others in Pembroke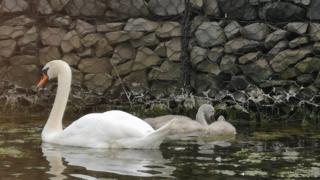 A "killer swan" dubbed "Mr Nasty" has killed up to 20 other swans at one habitat this year.
The massacre - at Castle Pond in Pembroke - has led conservationists and businesspeople to be on alert to save more swans from a grisly fate.
The swan is said to peck other birds before climbing on top of them and drowning them.
Bird rescuer Maria Evans said Mr Nasty had killed 10 swans since 21 June alone, but the figure could be higher.
She said the swan's behaviour was unusual to "this extreme" and the bird was "obviously protecting its young".
"It is quite traumatic to see," said Mrs Evans, of Tinker's Hill Bird of Prey and Swan Rescue Centre in Amroth.
Mrs Evans said swans were being pushed by other swans over a sluice from Mill Pond into Castle Pond.
The swan is then trapped with Mr Nasty and his partner, she explained, because they are moulting and cannot fly over the steep stone walls surrounding the pond.
She estimates another 10 swans have been killed since February, taking the potential death toll up to 20.
The area is not unfamiliar with killer swans following a similar situation with a bird nicknamed "Hannibal" back in 2010.
Sam Booth, of the Paddle West kayak hire company, said he had fished out up to 11 victims of the swan.
Mrs Evans added: "It is all down to Sam Booth that 14 other lives have been saved. I can't praise him enough."