Port Talbot triplets' bid to thank NHS staff 30 years later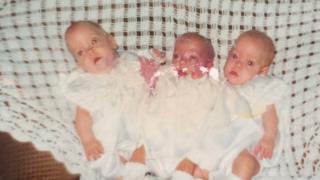 Triplets who were each born weighing less than a bag of sugar have launched a bid to track down the NHS staff who saved their lives 30 years ago.
Jessica James, Scott James and Jodie Pritchard from Port Talbot were born three months premature on 11 June 1988.
Ms James posted an appeal on Facebook to ask for help finding staff so they can thank them.
"We wouldn't be here today if it wasn't for the medical staff who really went above and beyond," she said.
"It's not something we think about a lot but when you do it really puts things into perspective and you get this amazing sense of gratitude and sense of awe really."
The triplets were born at the former Neath General Hospital and transferred to the special care baby unit at the University Hospital of Wales in Cardiff.
The sisters eventually left hospital on their due date - 11 September - and their brother, who had three operations, followed on 5 November.
So far they have tracked down one doctor - Dr Huw Browning.
"He was just as excited as we were and it was really nice to personally say thank you. He said 'I remember it like it was yesterday'," said Ms James.
Now they are determined to track down the other staff who cared for them.
"If you remember triplets being born in June 1988 just get in contact. We want to thank as many people as possible," she said.