Castlemartin inquest: Tank blast soldiers 'not showing off'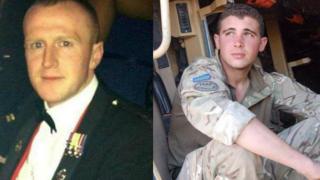 A survivor of a fatal tank blast has insisted two of his late comrades were not "showing off" during a firing exercise.
Royal Tank Regiment corporals Matthew Hatfield, 27, and Darren Neilson, 31, died after an explosion at Castlemartin Range, Pembrokeshire, on 14 June 2017.
Warrant Officer Stuart Lawson was badly burned after a 3,000C fire ripped through the Challenger 2 tank.
He told an inquest said the exercise was an essential part of his training.
And when asked about a previous witness' remarks that the soldiers may have been "showing off", WO Lawson said: "I totally 100% disagree with that statement."
He described both men, who were highly regarded regimental gunnery instructors in their unit, as "professional".
WO Lawson, a quartermaster sergeant instructor, said he had been invited to fire the tank's main gun after asking, since 2016, for the opportunity of a "guest shoot".
Previously, the hearing was told a seal stopping highly explosive gases escaping into a tank crew's turret was not in place before the lethal blast.
WO Lawson told senior coroner Louise Hunt he realised something was wrong when he heard "a distinctive" noise that sounded like before a grenade goes off.
He added: "I remember turning my head away, placing myself into a ball.
"I then remembered being shoved massively, from a massive explosion, just something forcing me right to the corner."
The inquest heard the other survivor, Trooper Michael Warren, had to wait to be freed by fire crews after an emergency release on the tank seized up.
At the start of the inquest, senior coroner Louise Hunt heard evidence the Army rang 999 at 15:33 BST, and the first fire engine arrived about 14 minutes later.
Both of the killed men served with the Royal Tank Regiment in Tidworth, Wiltshire.
The inquest continues.