Withybush Hospital shake-up petition handed in to Welsh assembly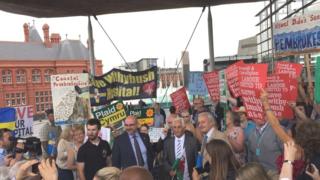 Campaigners against plans to downgrade Pembrokeshire's only hospital to a community unit have handed in a 40,000-name petition to the Welsh assembly.
Hywel Dda health board announced proposals in April to radically alter services at its hospitals.
It would mean Withybush Hospital in Haverfordwest losing its status as a round-the-clock general hospital.
A petition is a way of asking the assembly to step in, in this case, overturning the board's decision.
The health board said it realised the "huge strength of feeling" regarding the hospital but its plans were at a consultation stage and "open to influence and new ideas".
About 100 protesters handed in the petition on Wednesday.
Among them was Heather Scammell who said her son, now aged 25, had received "fabulous" care as 13-year-old after going into a diabetic coma.
"I have no doubt they saved his life and that's why we need 24-hour paediatric care at Withybush," she said.
Fishguard mayor Jordan Ryan said: "We are here to make clear to Hywel Dda that we are very concerned and we would like them to pause, reflect and genuinely consult on health services in Pembrokeshire and the wider area."
Campaigner Olivia Atkinson said: "The health board have given us three choices but all three choices involve the downgrading of Withybush to a community hospital. That's no choice at all - it's a Hobson's choice. It is going to cost lives."
Fellow campaigner Simon Childs added: "Pembrokeshire is a big rural area with two ferry terminals, a small airport and a liquid gas plant. It is dangerous if we have no A&E department."
Health board executive medical director Dr Philip Kloer said: "Common to all our proposals is re-purposing Withybush as a community hospital and providing emergency care in a new-build hospital somewhere between Narberth and St Clears.
"Our senior emergency care clinicians believe this would improve care for patients by helping us address our medical recruitment challenges and improving access to senior doctors at the front door.
"It would also offer many other benefits, for example, it would allow us to bring some significant healthcare services closer to Pembrokeshire including our main intensive care unit, some care for stomach and heart problems, ENT, obstetrics, paediatrics and special care baby services."
The health board said it would will consider all it has heard, including the petitions, before making any final decisions in the autumn.