Seven admitted to hospital for sunburn during heat wave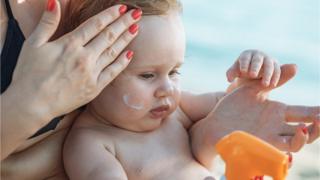 Seven people have been treated for severe sunburn in Wales amid the heatwave over the last month.
Morriston Hospital's specialist burns centre reported some of the patients had to be admitted as inpatients or referred to the Welsh Centre for Burns and Plastic Surgery.
Hot weather over the weekend also led to some people - including Wales Air show attendees - to get badly burned.
Warnings are now being reissued to make sure people stay safe in the sun.
Clare Baker, Burns Centre matron, said: "These are deep thermal burns which we are dealing with, very severe sunburn."
"These types of burns develop large blisters, cause extreme pain and can affect mobility because movement is restricted by damage to the skin.
"Patients with deep thermal burns need specialist dressings, and face weeks of appointments to get those dressings changed."
Staying safe in the sun
Wear sun protective clothing.
Use SPF 30+ sunscreen with at least four-star UVA protection.
Wear a wide-brimmed hat.
Wear quality sunglasses.
Seek shade from the sun whenever possible.
Ms Baker said people needed to reapply sun cream regularly, especially when sweating in the hot weather.
"Sun cream needs to be reapplied regularly and remember that if you sweat, it will come off and must be reapplied."
Occupational therapist Janine Evans, from the burns centre, added: "People may not realise that sunburn doesn't just happen on holiday - you can burn very easily in the UK.
"It's not just sunbathing that puts you at risk, but being outside in the sun without adequate protection.
"Sand, concrete and water can reflect the sun's rays on to your skin, and a mild breeze or getting wet in the sea or pool may cool you down so you don't realise you're burning."
If you experience sunburn, you should get out of the sun as soon as possible, she said.
Mild sunburn, where the skin is red and painful but not blistered, and where there are no other symptoms of heat exhaustion, can usually be treated at home with moisturisers.
People who are sunburnt are advised to cool the skin by having a bath or shower, or using a cold compress, use cream or ointment, drink plenty of fluids and take pain killers when needed.
Those with blisters, severe swelling or feeling unwell should contact their GP or visit their nearest minor injury unit.