Father attacked in front of children in Pontarddulais park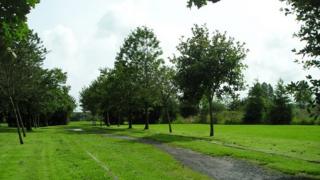 A father was allegedly assaulted by two men while walking through a park with his children.
Police are appealing for witnesses following a "particularly nasty and unprovoked" attack at Coed Bach Park in Pontarddulais, Swansea on 29 June.
The alleged victim was spat at and punched to the floor after confronting a group with a motorbike, police said.
While lying on the floor, the father was then kicked by the rider of the motorbike while his children looked on.
The father had suggested that a man riding a black and white moped "erratically" should take more care around children, including a child who was with the group.
"This was a particularly nasty and unprovoked attack, which was witnessed not only by the victim's children but also the young child who was with the attackers," said Insp Emma Fox.
"There were a few groups of people in the park, including a group of young people who were allegedly almost hit by the bike as it fell from the BMX track near to them."
Insp Fox described the attackers and appealed for any witnesses to contact the police.
The first attacker is described as white, about 5ft 7in tall, of proportionate build and with short brown hair.
At the time of the incident, he was bare-chested and wearing a light metal chain around his neck and stood in front of a blue BMW which appeared to belong to him.
The second attacker, who had been riding the bike, is described as white, about 5ft 8in tall, of thin build with short fair hair. He was wearing a blue vest and no crash helmet.
The woman who was in their company, along with a young child, is described as white, around 5ft 6in, in her early to mid-twenties and of thin build.
She had long dark hair which was tied into a ponytail.