Fishguard church silences bells after complaints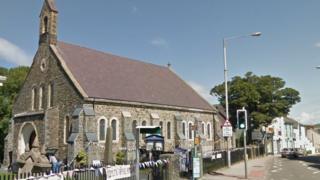 Bells summoning worshippers to a church service in west Wales have been silenced following complaints from locals.
Vicar of Fishguard Reverend Christopher Brown said some residents took objection to the 8am peals at St Mary's Church.
He said he agreed to the requests in the spirit of being neighbourly.
However, the sound of silence will only last until 10am - when bells for the later service will ring.
"We had a couple of grumbles about the 8am bells. People who live close to Fishguard Square endure a bit of noise on Saturday nights," he said.
"We decided to go along with their requests as an act of good neighbourliness."