In Pictures: When art and science collide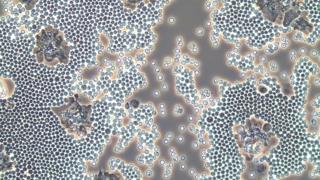 Owls' diets, crab parasites, devious fish and childhood memories - they are all themes and images captured by scientists and artists.
The 17 images selected by Swansea University are the winners of its 2018 Research as Art awards.
A panel of senior figures from the Royal Institution, Nature and Research Fortnight magazine made the choices from nearly a hundred entries this year.
The overall winner was Frances Ratcliffe for her microscope image of crab blood, which shows what the researchers described as "the beauty of the crystalline blood cells and jewel-like parasites".
The PhD postgraduate said the image reflected the collaboration of scientists at the Bluefish Project, a joint research programme bringing together universities in Wales and the Republic of Ireland to examine marine resources in the Irish Sea.
"Perhaps a small collaboration, like this image, can highlight the role of larger collaborations in encouraging a new generation of scientists," said the researcher.
Charlotte Weatherstone's piece was part of the Liverpool Air Quality Festival.
She described it as a "living wall installation" made of various materials including wood, moss and copper that will change appearance over time.
Janet Gbur's artwork shows a flaw in a piece of wire used in medical devices. She said its "deadly" failure in the nitinol alloy wire "in the right perspective can be so beautiful".
The work of Sarah Aldridge, from Swansea University's College of Engineering, shows a reconstruction of a micro-CT scan of a human wrist bone.
"Many people think that a bone is a fixed, unmoving property, but, in reality, living bone is constantly under reconstruction and refinement to adapt to external forces," she said.
Mark Blagrove, from the university's College of Human and Health Sciences, Department of Psychology, investigated dreams for this piece of work.
"The image is a painting that captures a dream, painted in 45 minutes while the dream was discussed and related to the recent emotional events of the dreamer's waking life," he explained.
Ben Whittaker, from College of Science, Department of Biosciences, worked in collaboration with Carlos Garcia de Leaniz on this picture of a cleaner fish.
The scientists were looking at how the fish might be able to remove parasites from salmon farms.
Tanjil Sowgat, from the College of Science, Department of Geography, photographed this painting by Alik Raptan, depicting life and poverty in rural Bangladesh.
"His composition is built around a blue fishing net of his fish farmer father," said the researcher.
"It appears to be overpowered by an abrupt intrusion of clay and mud representing land and the lack of access to it that shapes his and his family's future."
The image from Amy Murray, College of Human & Health Sciences, is looking at ageing.
"These hands belong to Margaret and her granddaughter Hannah. After driving for over 40 years, the time has come to give up," said Murray.
Ria Mitchell from the Advanced Imaging of Materials Facility, at Swansea's College of Engineering, submitted this X-Ray CT scan of a Pecten marine bivalve.
"This example highlights just some of the intricate micro-interactions that occur in the marine realm, and that by looking closely at beach debris it is possible to re-tell a story of colonisation, different life strategies, and adaptability," she said.
Steven Littlejohns has spent 10 years examining the history of Singleton Abbey, part of the university, and used computer software to recreate how it would have looked during the life of the original owner, John Henry Vivian.
Sarah Gamble, from Swansea University's College or Arts and Humanities, made this sculpture from the head of a doll washed-up on Swansea Bay.
She said the piece was a "reflection on the longstanding cultural association between women and the sea and the implications of such symbolism for feminism".
The fabric waves from Sally Thomas represent the waves of students who visited Swansea University's online home page between 15 and 20 August last year - just after A-level results were announced.
"Like a surfer awaiting a perfect wave, both staff and potential students wait each year for news, calls, enquiries, celebrations and rejections around A-level results day, all forming part of the stormy motion of the recruitment cycle," she remarked.
Latif Miah, from Swansea University Medical School, captured this image of a biological monolayer of cells. Researchers hope monolayers may be able to help combat diseases in the future, and help scientists model how bodily systems work.
This work, by Emmanuel Péan, shows a perovskite layer magnified 10 times using an optical microscope. Perovskite materials are good candidates for inexpensive solar panels.
Have you ever wondered what is in an owl pellet? It is something that puzzled PhD student Elizabeth Evans.
"An owl pellet is one of the few things I've always wanted to X-ray CT scan, so I couldn't believe my luck when I found one on the Crymlyn Burrows nature reserve right next to the Bay Campus."
Wave theory of light - this is what this image from Chris Dawson in the Physics Department of the College of Science is all about.
This photograph was captured using a laser, something not available when Augustin-Jean Fresnel submitted his theory predicting light image could leave a bright spot in the centre of circular shadows - something he was ridiculed for in 1818.
And finally, this image from Allyson Rogers questions the layout of street furniture: "This picture illustrates benches positioned so that anyone with a mobility aid or mobility difficulty cannot access the seats.
"The inability to sit and take a rest, because the benches are positioned in a manner that prohibits access, can have social impact on equality and power way beyond aching limbs and exclusion from resting.
"The overall message seems to be 'they don't care about us'."