Linda Rees supported by Carmarthenshire United Support Project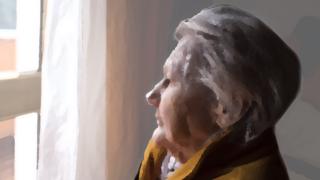 Blind and having suffered a stroke, Linda Rees described the death of her husband and carer as like "losing my right arm".
The loss of her best friend left her lonely and isolated, unable to do simple tasks such as shopping.
She is one of 160 people helped by the Carmarthenshire United Support Project (CUSP) in its first year.
The aim is to help people in crisis before they need to use statutory health or social care services.
Loneliness has been described as "a key public health issue" by Kelly Davies, the deputy older people's commissioner, who said it was important people are able to maintain their independence.
The Carmarthenshire project is a joint venture between the local council, charities and organisations, giving support at home and through social events.
Among those it helped was a man who did not have the confidence to go into Carmarthen town for 20 years.
Others have suffered from depression because of money problems or having no family nearby.
For Mrs Rees, 65, a former nurse from Llanelli, she became lonely and isolated following the death of her husband, Mike.
"I lost my husband and I'm blind so my life just changed," she said.
"Mike was my right hand, helping me do everything. Then, all of a sudden, I was just pushed into this loneliness and not knowing how to cope, doing things like shopping."
She lost her sight before having a stroke shortly after retiring, meaning she was totally reliant on her husband.
They were "together 24/7" and Mrs Rees said of her "best friend" that "wherever Mike was, I was".
After spending months struggling, she was appointed a CUSP support worker when the scheme was launched last June.
"I've got to borrow their eyes," said Mrs Rees.
"We go shopping. Only down the road every week but it's such a release being able to go out and do your own shopping and fetch it back."
CUSP case worker Ceri Fitzsimmons is also a "sympathetic ear" and a "new friend who has come into my life," she added.
She has also helped Mrs Rees gain modifications to her home.
Deputy older people's commissioner for Wales, Kelly Davies, said the scheme was playing "a vital role" in the area.
'Growing problem'
"Research has shown that making smaller, preventative interventions at an early stage can reduce hospital admissions and avoid people accessing more costly social care services, which provides better outcomes, both for older people and the public purse," she said.
Age Cymru's Mike Phillips described loneliness issues as "a growing problem", especially in rural areas such as Carmarthenshire.
"Many of the traditional places where older people used to meet and greet one another such as banks and post offices are being closed down as organisations encourage people to go online," he said.
"At the same time, many of the publicly funded support services such as day centres, lunch clubs, libraries and bus services are being cut back due to a squeeze on local authority spending."