Michael Maguire death: Officers in case praised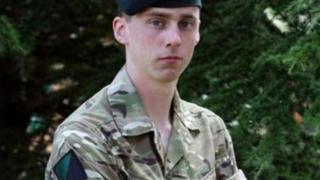 Two army officers accused of acting negligently during a live fire exercise that killed a soldier have been described as "outstanding" and "highly competent", a court martial heard.
Lt Col Richard Bell and Warrant Officer Stuart Pankhurst helped to organise a drill in 2012 in which 21-year-old Ranger Michael Maguire died.
He was hit by a stray bullet at Castlemartin in Pembrokeshire.
Lt Col Bell and WO Pankhurst both deny acting negligently.
Capt Jonathan Price, 32, who ran the operation, denies manslaughter.
'Most professional'
During a court martial at Bulford, Wilts, WO Pankhurst, a father-of-two, was praised as a "mild and gentle man".
In character statements from other army officers, the court heard the 40-year-old has a "talent" for developing young recruits.
Col M Murdoch, as he was referred to in the statement read to the court, said: " He is one of the most professional and capable soldiers I've met in my entire career, there are few men I rate higher than this man,"
Similarly referred to in another statement Lt Col M Lewis said: "He's both an exemplary soldier and a leader who is utterly talented."
The court martial also heard character statements about Lt Col Bell, who is accused of acting negligently by failing to review the live firing range plans. He was described as a "highly competent" soldier.
Giving evidence retired Gen Sir Adrian Bradshaw said he "completely trusts" 45-year-old Lt Col Bell and that he is "exceptional".
Both men deny acting negligently in performing a duty and the case continues.