WW2 pilot flies 560-mile round trip to comrade's funeral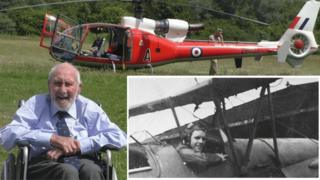 A 94-year-old World War Two glider pilot took his first helicopter flight to attend a comrade's funeral.
Ian Kerr-Bonner feared he would be unable to make the 560-mile round trip from his home in Pembrokeshire to pay his respects to old friend Des Page in Kent when he broke both hips.
He had been friends with the fellow glider pilot for more than 70 years.
However, veterans' charity SSAFA heard about his plight and arranged the helicopter trip for him.
"It's sad but worth the journey," said Mr Kerr-Bonner from Cresswell Quay.
"We were going to come by road but we thought it was going to be too long a journey, so they came up with the idea of a helicopter which was wonderful.
"They don't come very often like Des. I never thought he would go first."
Mr Page qualified as a glider pilot two months before D-Day in 1944 at the age of 21.
The Armed Forces charity secured funds from Army Air Corps Veterans Association for a helicopter to take Mr Kerr-Bonner to Vinters Park Crematorium in Maidstone.