Parents' care helps cut sick baby stays at Singleton Hospital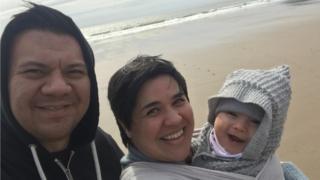 Pioneering neo natal care which gives parents greater roles in looking after sick and premature babies in hospital could be rolled out across Wales.
It follows the success of a project at Swansea's Singleton Hospital which has cut the time babies stay on the unit.
Parents have been given training such as tube feeding and taking temperatures which has also helped develop bonds.
"There are lots of things we can do even though they are fragile and small," said father Jonathan Kidwell.
The teacher is now a "veteran dad" who advises other parents on how they can help their premature and poorly babies.
He became involved after his wife, Ffion, gave birth to their son, Gwilym, who was born at 27 weeks in March 2017.
"A year on, he is going very well," said Mr Kidwell, from Ammanford, Carmarthenshire. "As things go, he will have regular check-ups but there have been no concerns so far."
Mr Kidwell said he and his wife went through a "scary" experience after they was told their son was going to be born very prematurely.
For nine weeks after Gwilym was born he was under the care of specialist medical staff and his parents were also shown how to feed him through a tube, wash and clean him and give him cuddles.
He said: "It was daunting. My wife and I were very nervous.
"You don't think you can touch the baby but within a day you could pick him up and cuddle him."
Now he imparts his knowledge to other parents going through similar experiences.
"There is a lot going on, a lot of things that make us nervous so we do need to talk about it and then it gives the dads the confidence to seek more help," said Mr Kidwell who teaches at Clwyd Community Primary School in Penlan, Swansea.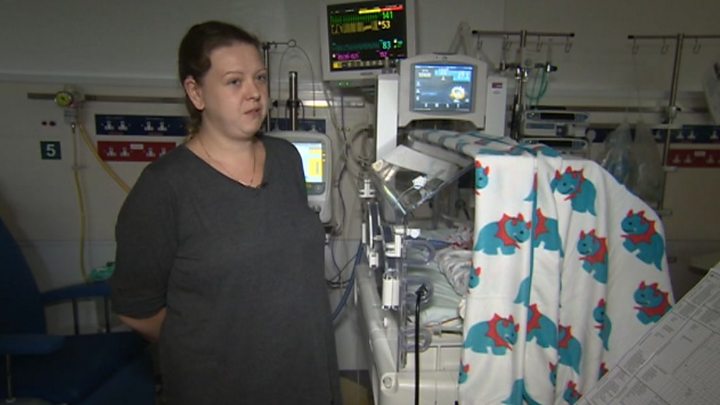 Abertawe Bro Morgannwg Health Board was the first in Wales to introduce Family Integrated Care (FiCare) and its findings are due to be shared with experts on Friday at the Royal College of Paediatrics and Child Health and Welsh Paediatric Society's conference in Swansea.
It has seen a reduction in the length of stay on the unit and an increase in breastfeeding rates which, in turn, helps to improve the health babies, according to paediatric consultant Maha Mansour, the project's clinical lead.
Currently, the neo natal unit is looking after 17 babies, with eight in intensive care.
Dr Mansour said: "When parents become confident in looking after their small and premature babies, even when they are very sick, it empowers them to become part of the team that makes decisions about how we are going forward with their babies.
"They become very attuned to the cues that their babies show so they are able to tell, sometimes way before any of us can tell, that their baby is becoming unwell.
"That bond helps them to look after their babies better."
She added: "Other units in Wales have shown a huge interest in this and many of them are in the process of rolling this out."
Another parent who provides support to other parents is Cerys Wyn, from Ammanford, whose fourth child, Alex, born at just 26 weeks.
"It was really traumatic. You are in a whirlwind," she said.
"Just because my baby was early and sick doesn't mean I was any less her mum.
"Why on earth as a parent would I not be involved in my baby's care?"