Llanelli fly infestation: Residents' anger at authorities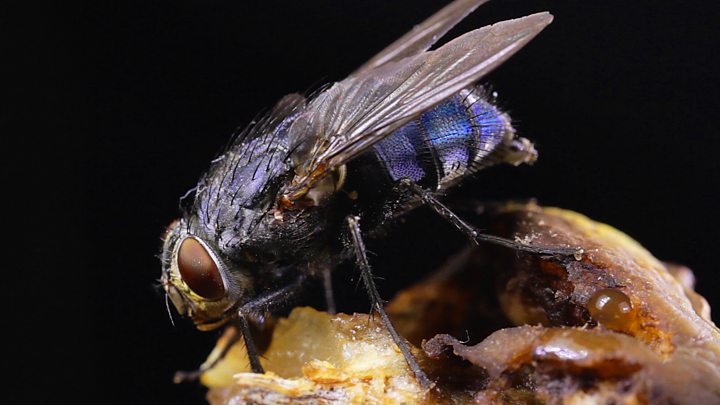 Angry residents plagued by hundreds of flies have demanded local authorities do more to solve the problem.
For nearly three weeks, swarms of houseflies have invaded homes in Llanelli. Although experts have been brought in to investigate, the reason for their appearance remains a mystery.
More than 150 residents attended a public meeting demanding more action.
Carmarthenshire Council said it had laid on additional resources to tackle the issue.
Several residents complained of suffering from sickness and diarrhoea symptoms since the flies' arrival and people living nearby have previously said they have had to eat meals in their cars to avoid them.
Flies more germ-laden than suspected
Experts sent to Llanelli to solve fly infestation
Judith Turnell, who lives in Dolau Court, brought a bag of dead flies to the meeting.
"It's disgusting, dirty, and I've had enough and I'm angry about it," she said.
"Everyone's passing the buck," she said.
"It's not about compensation, it's about sorting it out and getting rid of them."
An independent pest controller told the meeting he suspected the infestation could just get worse.
Chris Dyer from ARI Pest Control and Wildlife Management, said: "It's been warm, but once these flies settle and bed in, they will lay more eggs, and if it's still warm come August, they'll be back and they're likely to be even worse."
In a statement, the council said: "Staff are on hand to help those vulnerable people, in particular the elderly and disabled should their situation require additional support.
"Investigations are continuing to find the source of the problem, with the local authority still working with external partners such as Public Health Wales, Welsh Water and neighbouring authorities."
The council added residents should keep to "basic hygiene advice" to keep food in containers and fridges, to clean work surfaces, keep windows shut where possible and to use household pesticides.
A sample tested by an external pest control company earlier identified the flies as a common housefly.