First Milk Haverfordwest creamery to get £6.5m investment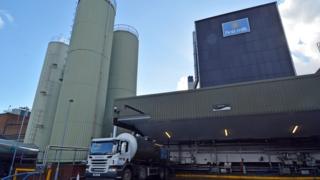 A Pembrokeshire creamery will receive £6.5m in new funds to increase its cheese production capacity and make it more efficient.
First Milk said it would make the investment in its Haverfordwest Creamery over the next two years.
Around £4.76m will be spent on new silos, buildings, pasteurisers and milk separators, as well as new heat recovery equipment.
The company said this would result in energy and cost savings.
It said the investment will also help improve productivity.
The rest of the funds will then be used to update the cheese-making equipment and whey-handling facilities, which will enable further additional production.
The news comes just days after Danish-based dairy group Arla said cheese production at its Llandyrnog creamery in north Wales would end, cutting 97 jobs from the plant.
In September, First Milk said it would cut 10 jobs from its Haverfordwest creamery.
Its chief executive Shelagh Hancock said: "On the back of increased customer demand for our award-winning cheese, we are also encouraging our members to increase milk production and actively recruiting additional farmers to supply us with milk."