Llangadog chicken barn: Council set to approve revised plan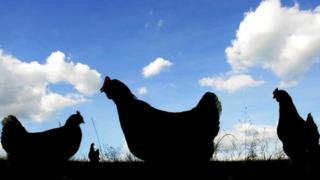 Controversial plans for a free range chicken barn capable of holding 32,000 hens have moved a step a closer.
Previous plans at Godre Garreg farm, Llangadog, were rejected because of the proximity to nearby homes. There were also concerns about the smell.
But Carmarthenshire council's planning committee has now said it was "minded to approve" the scheme following amendments to the application.
However, it is still subject to a call-in request to the Welsh Government.
Also, a report on its impact will have to be completed before planning permission can be formally granted.
There were 79 objections and a 1,300-signature petition opposing the original scheme, with complaints focusing on smell, proximity to houses and increased traffic.
The amended proposal sees the barn moved about 140m (460ft) closer to the farm.
A report for the council said: "It is considered that the principal concern in relation to smells and noise can be appropriately controlled with the professional management of the business and adherence to conditions applied to the planning permission."