Gorslas Phoenix Inn pub robbery: Two men charged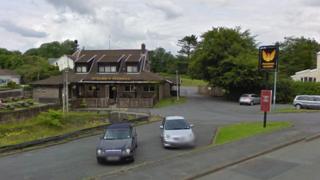 Two men have been charged with the robbery of a Carmarthenshire pub.
A 26-year-old man from Cardiff and a 27-year-old man from Carway are accused of breaking into The Phoenix Inn, Gorslas, at about 09:30 BST on Tuesday.
The former was also charged with possessing an offensive weapon in a public place. Nobody was hurt in the raid.
The pair will appear at Llanelli Magistrates' Court on Thursday.