Illegal rave ends after weekend of music sparks complaints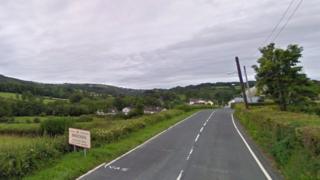 Police have insisted they will do everything they can to stop future raves happening in west Wales.
At the weekend, a reported 1,000 revellers gathered in Brechfa, Carmarthenshire, prompting scores of complaints from angry residents.
Among the mess left behind included broken bottles, human excrement and dozens of gas canisters.
Some locals say they are not happy with how Dyfed Powys Police handled the event.
A force spokesman said: "A police presence will remain near the site of the rave today to provide reassurance to people living in the area.
"We would like to assure residents that we are doing all we can to prevent future gatherings from occurring."
Residents say the illegal rave began on Friday evening and continued through the weekend, finishing at 18:00 BST on Monday.
Stephen O'Neill, who lives two miles from the rave site, told BBC Radio Wales the music was "very, very loud".
He said: "I awoke about 4am on Saturday wondering where this noise was coming from and then went out to investigate.
"I saw some locals gathered in the village and a few cars went past us so we decided to follow.
"That's when we ascertained where the entrance was to the site and that's when I called the police and gave them that first location."
Mr O'Neill described the rave as "large-scale event, well-planned and well-executed".
He added: "It started Friday late evening and finished around about six pm yesterday. Probably 40 hours plus of constant music."
Residents have since invited Dyfed Powys Police's crime commissioner Dafydd Llywelyn to the village to discuss how it had been handled.