Michael Maguire death: Targets 'negligently set up'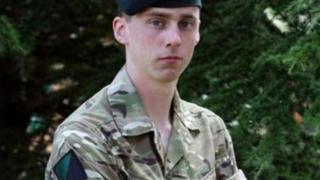 An army captain who ran an exercise in which a soldier was killed had never run a live shooting exercise before.
A court martial heard Capt Jonathan Price, 32, negligently set up targets outside safe shooting zones putting Ranger Michael Maguire in the line of fire.
A stray bullet shot and killed Ranger Maguire from 0.6 miles (1km) away during an exercise in Castlemartin in Pembrokeshire in May 2012.
He denies manslaughter by negligence.
A senior army officer told the Bulford Military Court there were "no questions" about Capt Jonathan Price's abilities when he was tasked with organising the live ammunitions drill.
Maj James Walker said Capt Price was "deemed highly competent" when he took on the role .
The court heard Capt Price and Warrant Officer Stuart Pankhurst had never led a shooting exercise like this before.
Maj Walker also said there were no doubts about Warrant Officer Stuart Pankhurst, who assisted Cpt Price in setting up the exercise.
Maj Walker said "In hindsight, I might have checked his range action safety plan but I don't believe it would have changed what happened.
"I didn't know Capt Price had not run a live firing range before, but my assumption was that during his course he would have done one, and if he had not that would be a failing."
Capt Patrick Brangan, who had been with Ranger Maguire in the hours before his death, told the court the regiment was "running hot" because it was busy getting prepared for an upcoming trip to Kenya.
The court heard that Capt Price of the 2nd Battalion, The Royal Irish Regiment, set up a number of targets on mounds which prosecutor Nigel Lickley QC said were "outside the arc of fire".
Lt Col Bell, of the Infantry Training Battalion, was responsible for overseeing Capt Price and "did not review the exercise" before it was carried out, the court has heard.
45 year old Lt Col Richard Bell and 40 year old WO Stuart Pankhurst both deny negligently performing a duty. The court martial continues.