Cockpit from 'Richard Burton's old plane' in garden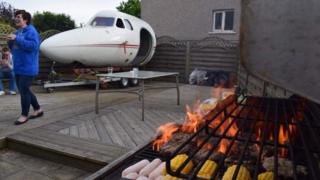 If you looked over the back fence at one garden in Port Talbot it's plane to see why you might be a bit shocked.
While some people have sheds, Rhiannon Reynolds has the cockpit from a Dominie 125 Hawker aircraft.
The 41-year-old gave her partner Dean Smith the green light to put the front of a 1960s jet in her back yard after he bought it earlier this month.
Mr Smith said owning a plane was a dream and hopes it will raise money for bereaved armed forces children.
He said: "I pinch myself every day to remind myself that I've got half a plane in the garden.
"I've worked all my life, and just while some men spend money on going to see the football, I decided to indulge myself this way.
"I've always dreamed of owning a plane since I was kid - my uncle was a pilot and my auntie worked at RAF Stormy Down."
The father-of-three bought the three-tonne cockpit earlier this month for a bargain £5,000 before transporting it by trailer from Doncaster, Yorkshire.
And after checking the registration online he said the plane was once owned by Hollywood actors Richard Burton and Elizabeth Taylor, as well as Saudi billionaire Mohammed Bin Awad Bin Laden - the father of terrorist Osama Bin Laden.
Mr Smith added: "I'm very lucky that Rhiannon has allowed me to keep it in her garden.
"It was a real team effort to get it there - it took fifteen people."
He has already started work on renovating the cockpit, but hopes to add sounds and lights as well as a dry ice machine in the future.
The grandfather from Porthcawl has also been kept busy with interest from locals.
He said: "It was a bit of a shock for the neighbours at first, but they've been fantastic, it's not every day you park a plane in your back garden.
"Originally we parked outside the front of the house, but that became dangerous when so many people would come down and drive by with their mobile phones out the window.
"I'm quite shocked by the reaction."
Mr Smith plans to take the cockpit to charity events and air shows - such as next year's Cockpit Fest in Nottinghamshire - and hopes it will raise funds for the charity Scotty's Little Soldiers.
"It helps whose parents have died while serving in the forces," added Mr Smith, whose eldest son Christian currently serves in the RAF.
"I know all about the good work they do."